More often than not, in sales, growing your business means taking market share from your competitors, while they try to do the same to you. However, disrupting your competition is no easy task. On today's show, we speak with Anthony Iannarino, B2B sales coach, and Author of Eat Their Lunch: Winning Customers Away from Your Competition who tells us how we can find and hold onto the long-term competitive advantage.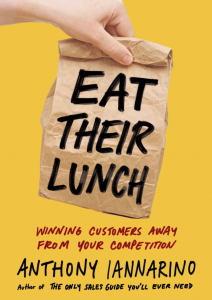 In Anthony's latest book, Eat Their Lunch, 99.9 percent of us work in an industry that already has a lot of competition. So, how do you survive in this new digital disruptive age? Furthermore, how do you create a new competitive advantage through technology? The reality according to Anthony, is that most of us simply don't have the means to accomplish this.
The reality is, it's a competition – somebody wins, somebody loses. For most of us, "winning" means taking our dream client away from our competitor which is not easy to do.
The central premise behind the book is something Anthony calls "Level 4 Value Creation". There are essentially four levels of value that a business can create:
Level 1 – Product / Service
Level 2 – Better Experience
Level 3 – Getting a Result
Level 4 – Most Strategic Outcomes
For most of us, the competitive advantage starts at level 4, even though most of us start the conversation or pitch at level 1. Now that we live in a global economy, level 1 is no longer enough. Once, you show up and sound like a commodity, then the customer automatically puts you in a box. However, when you approach from the viewpoint of strategic outcomes, you are bringing a new and exciting conversation to your customer.
---
The Atlanta Small Business Network, from start-up to success, we are your go-to resource for small business news, information, resources.

Follow us on Facebook here and stay up to date or catch-up on all our podcasts on demand.
While you're here, don't forget to subscribe to our email newsletter for all the latest business news know-how from Atlanta Small Business Network.
This has been a JBF Business Media production.