Every entrepreneur knows that sales revenue is the driving force of almost every type of business. So, what is your business doing to boost sales and form long-lasting customer relationships? On today's show, we welcome back Jeff Shore, CEO of Shore Consulting, best-selling author, and B2C Sales Expert. Jeff is a seasoned sales trainer and always has good insight into the good habits and behaviors that every salesperson should have.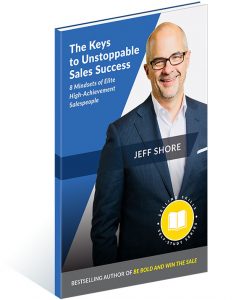 Jeff and Jim begin the show by discussing the sales behaviors that drive customers crazy which include:
Giving up control: Asking a customer, "How can I help you?" relies on the customer making the first move. That's unexpected pressure for the customer and they might not know how to react.
Focusing too much on where the customer is going, not where they're coming from: There is a reason why a customer is looking for a specific product or service, but salespeople tend to focus on where they can take the customer. However, they need to truly understand the motivation and the problem.
Low or no emotion presentation: Consumers are emotionally driven people, and they tend to make their buying decisions predicated upon emotions rather than logic.
Not gaining agreements: Have the customer make a series of small decisions along the way, so they'll be more inclined to say 'yes' to the final purchase.
When a customer talks to a salesperson and lies, it's easy to start making moral judgments about your customer. Nothing good ever comes from that. If a customer is not giving you an honest answer, it means they don't trust you with that information yet. However, as a salesperson, you have to ask yourself, "Am I trusting my customers? Am I trusting myself?". You can be both honest and successful, they're not mutually exclusive.
Closing a customer who is not ready for closing can be hugely detrimental. Customers can usually sense when a salesperson is only interested in making money and not interested in solving their problems. You're letting them know right away, that this is not a partnership, its a battle. Jeff strongly believes this is the wrong approach, even though he knows a lot of people disagree with him.
To find out more about Jeff and his insights into sales training, be sure to watch our full interview above.
---
The Atlanta Small Business Network, from start-up to success, we are your go-to resource for small business news, information, resources.

Follow us on Facebook here and stay up to date or catch-up on all our podcasts on demand.
While you're here, don't forget to subscribe to our email newsletter for all the latest business news know-how from Atlanta Small Business Network.
This has been a JBF Business Media production.