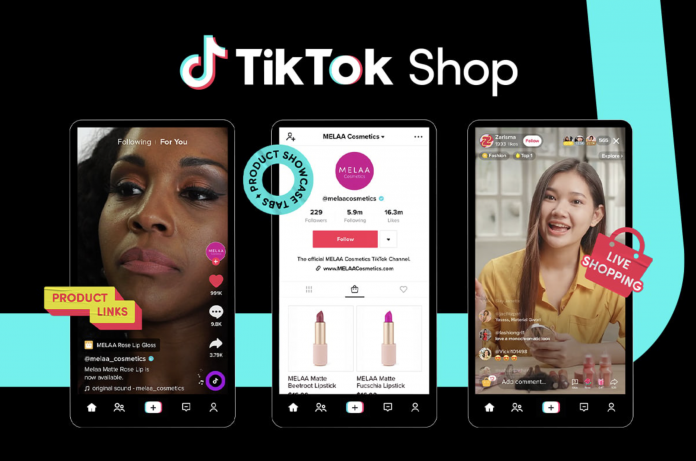 Despite its early roots as a music-centric app that encouraged users to lip-sync and act on their favorite music, the platform has since expanded to include a broad range of material, including an increasing number of user-generated videos.
Before August 2021, purchasing items on TikTok was an unplanned occurrence. Content creators promoted items on their channels, directing followers to their e-commerce shop. It was up to the user to leverage a third-party application to make the purchase. 
With the release of TikTok Shop, it partnered with Shopify to integrate the shopping app within the TikTok platform. Products can be promoted and sold through live broadcasts, in-feed videos, and the product display page. With this long-awaited social commerce experience, users can now purchase inside the app and easily find what they need.
Why use TikTok Shop?
TikTok has a user population in the billions. It is a fantastic platform for local companies to expand their customer bases without investing much. TikTok Shop presents companies with a remarkable opportunity to transcend conventional advertising methods and venture into the realm of captivating and attention-grabbing videos. 
This innovative platform enables businesses to market their products in a manner that goes beyond mundane ads, offering a more engaging and entertaining approach to reaching their target audiences.
The format stands out for its ability to present compelling stories and engage with audiences in real-time, offering a substantial benefit in cultivating trust and enthusiasm for the brand. This unprecedented reach might further amplify your brand's exposure and your target audience's involvement.
The platform's algorithm considers a user's history, preferences, and behaviors for advertising purposes and tailors what appears on the "For You" page. This implies that more people interested in a company's content will see that material, increasing the possibility of a sale and the number of visitors to the company's TikTok Shop.
Real-Life TikTok Success Stories
Enchanted Scrunch by Dasha Derkach holds its position as one of the most successful small business Tik Tok accounts list. Dasha Derkarch, a 14-year-old schoolgirl, began her marketing campaign on Instagram but has now shifted her focus to TikTok as more and more people joined the app.
TikTok lived true to its reputation as an e-commerce-friendly site and assisted Dasha Derkarch in achieving her objectives. She attributes over 90% of her revenues to TikTok, while the remaining 10% comes from Pinterest and Instagram combined.
She was only getting around two orders a week before TikTok. But with TikTok, Dasha's scrunchie company has grown to over 170,000 followers and about 500 weekly purchases because of her consistent uploading of videos and response to user inquiries.
Sana and Will Saleh's startup kickstarted during the COVID-19 lockdown when they casually showed off their original tie-dyed hijab patterns in their videos. After just one night, the pair earned many potential customers due to a single viral TikTok video. They have started promoting Lala Hijabs primarily through TikTok. 
Sana and Will Saleh decided to increase their brand recognition by releasing vlogs, tutorials, and new products. Up to this point, over 60% of their revenues have been from TikTok, which has amassed over 100+ followers and 4.2M likes organically.
With the help of quick coffee videos, Caitlin Campbell has established a distinct brand for her startup, Street Brew Coffee. Her film was made simply, yet it portrayed an incredible experience for coffee lovers. 
TikTokers had access to a wide range of information, from the most affordable coffee setup to the ultimate method for creating a delightful iced Kitkat latte. Street Brew Coffee gained over 900,000 followers and 20 million video likes at its launch and has gained traction ever since.
Effective Tips to Harness TikTok Shop's Potential
Here are some stellar tips to elevate your brand marketing strategy and cast a wider net.
Regular Updates
Post interesting content to keep your audience engaged. Maintaining a steady approach earns your audience's confidence and encourages them to stick with you. For this, create a content schedule to guarantee regular updates and pique your user's interest.
Choose Your Trends Wisely
You can ride the success wave and cast a wider net with the help of TikTok's challenges and trends. However, to keep your brand's integrity intact, you must ensure the trends you follow are timely and consistent with your core beliefs.
Work Together with Influencers 
Connecting with niche-specific influencers can extend their reach and get access to their active following. Collaborating with others can give your work a new spin and introduce you to a new audience.
Make Strategic Use of Hashtags
To get more eyes on your product, use popular and relevant hashtags. You can also promote user-generated content and build a feeling of community by using branded hashtags for your company.
Take The Audience Behind the Scenes
To foster trust with customers and establish a more relatable brand image, it is essential to offer glimpses into the inner workings of your company. Whether it's a new product, a team project, or your brand's origin story, give them a sneak glimpse of what's in progress.
Hold A Contest and Give Out Prizes
Host competitions and give away prizes to incentivize users to join in and interact more. One way to encourage consumers to interact with your content is to offer them incentives, such as access to exclusive features or limited-edition items as prizes.
Grasp The Art of Storytelling
Use TikTok's time frame effectively to deliver tales that touch your viewers deeply. Whether you're sharing a customer success story or the origins of your company, add a pinch of storytelling to leave an indelible mark on audiences.
Keep an Eye On The Stats
Regularly check the statistics to know what kinds of content are doing well in TikTok Shop. Monitoring metrics to spot patterns and improve your content strategy is important.
Conclusion
As a result of TikTok Shop, local businesses can reach a wider audience and accelerate their pace of growth. We can find numerous examples of thriving companies built on platforms that attest to their significance. 
Businesses must utilize TikTok Shop to succeed in online retailing since it will help them market their products, encourage more people to buy from them, and take their business to new heights.