Many brand owners mistakenly think that social media marketing is the best way to promote their brand online. However, an email newsletter is a highly effective way to directly reach your target audience with content that will build brand engagement, drive more traffic to your website, and increase sales. Therefore, before you spend all your money and marketing efforts on social media advertising, consider creating an email newsletter to promote your brand directly to your target audience.
Email newsletters are a bit different from email marketing. For example, email marketing is about sending advertisements and promotional messages to prospective customers with the goal of making a direct sale. However, newsletters focus more on offering value-added information to your subscribers. A newsletter is a great way to highlight your brand. The newsletter should contain content that your audience finds enjoyable to read. Learn to craft engaging, well-written messages with links to relevant web pages on your website. If you are successful, the newsletter will increase your web traffic and generate more sales.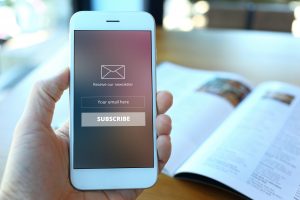 An email newsletter has several advantages over social media marketing. First, unlike social media followers, your email subscribers are all yours. When your subscribers are reading your newsletter, you have their undivided attention. Many brand owners accuse social media sites of shadow-banning their content. Shadowbanning is the act of secretly hiding content that the owner thinks is visible to others. Therefore, with a newsletter, you don't have to worry about a social media algorithm not displaying your content to your audience. Another danger of social media marketing is getting banned from the platform you use to promote most of your business. As a brand owner, getting banned from a social media site will put you out of business if that is your main digital marketing strategy.
Your newsletter needs is subscribers to email. Luckily, creating an email list isn't that difficult. There are a lot of free resources available online that will teach you how to gain subscribers for your newsletter: articles, video tutorials, and marketing forums. However, before you can email someone, you must get their permission. Also, you have to include an unsubscribe link in your newsletter. You can often recruit subscribers by inviting your site's visitors and customers to join your newsletter. If you are willing to spend some money, you can hire a digital marketing firm to help you craft an email list. If writing isn't your greatest strength, you might consider hiring them to develop content for your newsletter.
In short, don't overlook the power of an email newsletter when developing your brand's digital marketing strategy. Remember, a newsletter is not just sending advertisements and promotional offers to prospective customers. Instead, you are trying to educate others about your brand, as well as build trust in your brand. The goal is to build brand loyalty with long-term customers. 
---
The Atlanta Small Business Network, from start-up to success, we are your go-to resource for small business news, information, resources.

Follow us on Facebook here and stay up to date or catch-up on all our podcasts on demand.
While you're here, don't forget to subscribe to our email newsletter for all the latest business news know-how from Atlanta Small Business Network.
This has been a JBF Business Media production.