What do Netflix, Fortnite, PlayStation, and Spotify all have in common? Other than being entertainment companies with millions of paying subscribers, they all produce highly engaging content. PlayStation Network active members have risen to 80 million, while Fortnite currently has approximately 250 million players, two-thirds the size of the U.S. population.
While this may seem irrelevant, the ability of these companies to attract millions of individuals to interact with their content is worth noting. Part of the reason is that audiences are moving away from traditional media to embrace more interactive forms of material, which are largely adopted by entertainment companies.
Time spent with traditional forms of marketing like magazines and newspapers has plunged by 56 percent and 45 percent, respectively. In contrast, we now spend the equivalent of an entire day a week consuming interactive media on smartphones.
Entertainment companies are taking advantage of video game consoles, streaming services, smartphones, and even social media to connect with customers through interactive media and storytelling.
While these companies are well-positioned to do this because of the type of media they create, there is a lot that small businesses and start-ups can take from their approach to storytelling, interactive marketing, and the strategies associated with using these concepts to entertain and engage audiences.
For example, Goldman Sachs put an interactive spin on infographics by creating a clickable graphic to tell the story of millennial spending habits. Another example is an interactive video created by Maybelline that allowed users to watch make-up tutorials and explore selections by clicking on buttons within the video.
These examples entertain just as much as they tell a story. So, how can small businesses and start-ups integrate the approach of entertainment—and forward-thinking— companies in their marketing? Read on for tips.
1. Understand Your Audience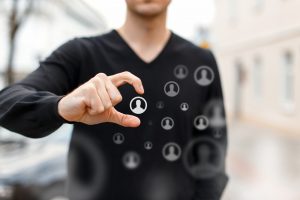 Fortnite knows what their audience looks like, and responds accordingly. Because they have a younger audience, Fortnite incorporates a look and feel that appeals to this group. From the character dances to the bright graphics, Fortnite makes their target audience a priority.
So, to truly understand the interactive marketing tactics that will appeal to your customers, you first need to get to know them. Use customer data as well as their online behavior to create personas that allow you to get a feel for who they are. From there, you can create engagement strategies that appeal to them directly.
2. Let Your Customers Take the Lead
Your target audiences don't always want to be talked to or pushed into a direction. They appreciate it when you let them take the lead in their customer journey. Netflix is an excellent recent example of this with their Black Mirror: Bandersnatch film.
In it, viewers could pick what happens to the protagonist in a "choose-your-own-adventure" style experience, which sparked a wave of popularity and discussion about the streaming giant's innovative new approach to entertainment. Many went onto social media to discuss their choices and feelings about the film. So, while you may not be able to pull off a Bandersnatch, see how you can let customers take the lead in your marketing efforts.
3. Take Advantage of a Popular Entertainment Trends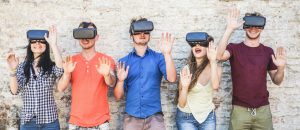 While you don't always want to follow the crowd, it is not a bad idea to jump onto a trend to entertain audiences and involve them in the story of your brand. Entertainment giant, HBO did this by allowing audiences to participate in Escape Rooms that promoted some of HBO's most popular shows. Fans were able to find clues and solve puzzles while becoming immersed in their favorite shows.
From this, fans could walk away knowing that HBO confirmed that they were a fun and interactive company that makes the entertainment of their fans a priority. For you, maybe it isn't an escape room. However, find a current trend that you can connect to your brand to better tell your story.
4. Take Advantage of Technology
Much like the previous entry, it helps to have your ear to the ground regarding technological advances. While the first—and most important step—is having a strategy, it is vital to deliver this information on the right marketing channel while utilizing the most appropriate technology tool. Toyota nailed this when they setup a VR experience in urban areas around Europe to show off their new car models. After users participated, Toyota allowed customers to extend the experience by giving them Google Cardboard VR viewers to take home.
Toyota would not be able to reach audiences in the same way without pursuing an innovative form of technology. So, look at your end goal. Whether its increasing visits to your website or getting customers into your store, see how a technology tool can help you do this.
Final Thoughts
Today, customers are looking for more interactive and engaging interactions with companies, and many entertainment companies have figured this out. They are using technology and a growing fondness for digital media to capitalize on creating memorable experiences.
While the structure of your business may not allow you to accomplish this more often, there are ways you can use the tips above to combine entertainment, engagement, and storytelling. As long as strategy and understanding who your audiences are is the priority, you can attract and retain audiences for the long haul.
---
The Atlanta Small Business Network, from start-up to success, we are your go-to resource for small business news, information, resources.

Follow us on Facebook here and stay up to date or catch-up on all our podcasts on demand.
While you're here, don't forget to subscribe to our email newsletter for all the latest business news know-how from Atlanta Small Business Network.
This has been a JBF Business Media production.