Facebook is a powerful tool, but only if used correctly. Two out of three businesses on Facebook, however, do not work with a proper Facebook marketing strategy. Instead, they muddle through, trying to learn as they go along. If your business isn't truly expert at Facebook, however, you don't get the mileage out of this platform that you can. Here are mistakes that you should look out for and avoid.
1. You Forget about Facebook's Rules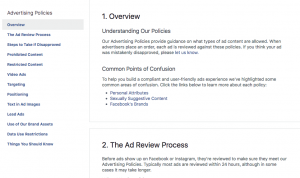 It's possible to break the rules when you post on Facebook. For instance, if you publish a photo hyperlinked to a website, it goes against Facebook's preferences for what posts should be like. The way Facebook sees it, photos should have dead-end links — they should be clicked to expand, not to lead to websites. It's important to keep such Facebook rules in mind in order to not be penalized.
2. You Post Just Links
Many companies publish posts that consist of links to their website, and nothing else. Facebook users, however, tend to stay within Facebook, and wish to not to be taken outside. Going outside tends to result in less engagement and, curiously enough, fewer clicks. Facebook advertising, on the other hand, results in more website clicks. Proper advertising, not links, attracts people and makes them click.
3. Poor Content Targeting
Many companies use the spray-and-pray approach: They publish all the news and content they can get their hands on, let all their followers see it, and hope that something sticks. Precise content targeting, however, is Facebook's strength. To ignore it makes little sense, because irrelevant content tends to annoy readers. A basic rule of Facebook use is to only publish content that can be targeted.
4. Neglecting to Advertise on Facebook
About five percent of your audience is the best you can hope for when you take the organic route. For longer than a year, however, Facebook's organic reach hasn't been very good for businesses. Facebook expects businesses to reach their audiences through its advertising products instead. It's important to post high-quality content on a regular basis, and to then promote through advertising.
5. Neglecting to Use a Consistent Tone of Voice
Not many businesses decide on the tone of voice to use. They tend to let different employees take charge of their Facebook presence at different times, resulting in a company tone that changes from formal to fun at different times of the month. Such inconsistent tone is likely to disengage viewers, however. It's important to get the marketing team on board, create a tone that works with the company's general brand image, and to go with it at all times.
6. Ignoring a Problem When it Comes Up
People don't just go to company pages on Facebook to follow fun posts — they also go to complain about problems. Many businesses aren't sure how to handle negativity, however, and simply choose to ignore it. This tends to look bad to other Facebook users who see the company as disengaged.
It's important to thoroughly deal with negativity as soon as it turns up. The idea should be to respond within minutes. Facebook Insights allows businesses to monitor response times. If it's hard to respond in a prompt fashion, it would be a good idea to hire someone who is able to do it.
7. Finding a Content Strategy
Content pasted from the company blog, for instance, simply doesn't work. Facebook content needs to be specifically created for the platform, and it needs to be emotive. Businesses need a content strategy, a copywriter, and designer to be able to look professional on Facebook.
It is common for businesses to make mistakes on Facebook. These mistakes can take a toll on your success. It's important to pay close attention to Facebook's changes and preferences. It's the only way to use Facebook to its full potential.
---
The Atlanta Small Business Network, from start-up to success, we are your go-to resource for small business news, information, resources.

Follow us on Facebook here and stay up to date or catch-up on all our podcasts on demand.
While you're here, don't forget to subscribe to our email newsletter for all the latest business news know-how from Atlanta Small Business Network.
This has been a JBF Business Media production.