Navigating intergenerational relationships in your business can be tricky, but it's absolutely essential in order to achieve success. On today's show, we speak to Jeff Havens, business development trainer and author of the best selling book, Us vs. Them: Redefining the Multi-Generational Workplace to Inspire Your Employees to Love Your Company, Drive Innovation, and Embrace Change, to tell us the best ways to address these generational differences.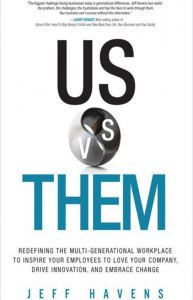 On the whole, when we talk about generational differences, we speak in terms of a 'new kind of person' coming along every 15 years or so; from baby boomers to gen x-ers, to millennials, but Jeff wants to flip that narrative on its head. It's not a productive framework to use when talking about the workplace.
Jeff explains, "In reality, we are dealing with the same issue that we have dealt with since the beginning of time. Older workers versus younger workers." In other words, people who have a certain amount of experience, and younger workers who are beginning their careers or don't have as my experience as their colleagues.
A big generational difference that often creates issues is technology. Before the availability of tech like smartphones, the practices and processes engrained in working culture stemmed from face-to-face interaction. It was the only way to do business. With younger generations, communicating through technology comes as naturally as breathing. It's not a matter of who is right or wrong; both groups were trained in completely different environments.
---
The Atlanta Small Business Network, from start-up to success, we are your go-to resource for small business news, information, resources.

Follow us on Facebook here and stay up to date or catch-up on all our podcasts on demand.
While you're here, don't forget to subscribe to our email newsletter for all the latest business news know-how from Atlanta Small Business Network.
This has been a JBF Business Media production.