It's never been more important to nail your content marketing strategy. In an increasingly noisy marketing landscape, brands optimizing their outreach efforts for eyeballs will be the victors in terms of customer acquisition. According to a Statista Research study, 61% of survey respondents indicated content creation was their top priority. If you are a brand builder focusing on creating a stellar marketing strategy for 2019, it is imperative you know where to spend the bulk of your time. Understanding the types of content consumers are looking for will allow you to increase your marketing ROI (return on investment) while reducing your chances of wasted marketing expenditures. To ensure your 2019 content marketing strategy is optimized for success, following are five crucial components your customer acquisition plan-of-action should include.
Ephemeral Content
Ephemeral content will be critical in 2019. Combined with consumers' increasing demand for privacy and their wish for clean social media histories, the potential of 'here today gone tomorrow' content is too tempting to ignore. While Snapchat might have pioneered the ephemeral content era, others are moving into the space to help brands tell their time-limited stories. Look for a growing number of startup companies to enter the ephemeral content space in 2019, including everything from ephemeral videos to ephemeral chat. Brands should already be working on an ephemeral content strategy to ensure they're targeting the right age group and that they're messaging is on point for this unique marketing format.
Live-Streamed Video
With video exploding in popularity, live-streamed video will be more popular than ever in 2019. Think live-streamed webinars and tutorials, live-streamed interactive question-and-answer sessions, and live-streamed video interviews (e.g. video podcast-style interviews). The more often you offer your audience live-streamed video content, the easier it will be to build a strong following for your brand. Facebook Live videos tend to enjoy high engagement rates, but YouTube Live videos are easier to share and embed across multiple platforms. Just as with ephemeral content, brands should already be developing their 2019 live-streaming video strategy.
Chatbot Marketing
Chatbot marketing will be essential in 2019. Busy smartphone-enabled consumers are getting used to communicating with chatbots to acquire the information they seek. Smart brand marketers should be leveraging chatbot technology to their advantage across multiple platforms including Facebook Messenger and Slack. Determine your company's end goals with chatbot marketing, understand which types of messages are best delivered via automated bot technology, and which sectors of your audience are most likely to be responsive to your chatbot marketing efforts. 
Micro-Moment Marketing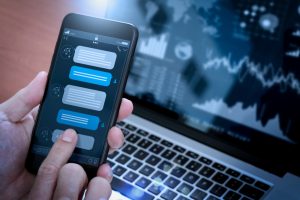 Micro-moment marketing will be hot in 2019. Increasingly important for reaching mobile-enabled consumers, micro-moments are best used when you want to deliver a powerful message in as short a time as possible. This isn't for information-heavy content like a white paper or case study. Micro-moment marketing is all about delivering a message your target audience will want to receive in a format they're happy to consume, e.g. video, and in a style that is likely to be shared. Integrate micro-moment marketing into your 2019 brand outreach strategy and you'll be ahead of competitors who are still focusing on long-winded content consumers gloss over. 
Personalized Content
One final format that will be super trendy in 2019 is personalized content. Today's consumers want to know brands see them and not just a herd of sheep waiting to consume their content. From your outreach on social media to your email marketing, personalized content needs to be a top priority if you want to increase your content marketing ROI in 2019.
Incorporate these five types of content marketing into your company's 2019 growth strategy and you'll be on the right path towards increased customer acquisition. 2019 will be all about delivering content to consumers on their terms. Work on making these five crucial components part of your brand building efforts and odds are you'll have a year filled with promise and profitability.
---
The Atlanta Small Business Network, from start-up to success, we are your go-to resource for small business news, information, resources.

Follow us on Facebook here and stay up to date or catch-up on all our podcasts on demand.
While you're here, don't forget to subscribe to our email newsletter for all the latest business news know-how from Atlanta Small Business Network.
This has been a JBF Business Media production.