According to Gallup research, millennial employment turnover is over three times the rate of other generations, costing the U.S. economy a staggering $30.5 billion annually. If your small business has experienced similar issues with the younger generations, then you need to hear from our next guest, Ryan Jenkins. Ryan is a millennial and generation Z expert who has spent the last six years helping clients like Coca-Cola, Wells Fargo, and Delta Airlines better lead and engage the next generation of employees. He is also the author of The Millennial Manual: The Complete How-To Guide to Manage, Develop and Engage Millennials at Work.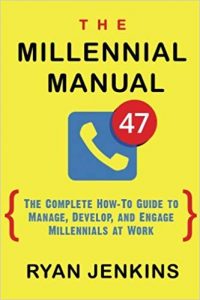 When hiring we see a lot of millennial resumes with multiple jobs, but all for short periods of time. Some for 3 months, 6 months and even 2 months I've seen. It's no question that millennial loyalty and longevity is a challenge, so what can managers do to overcome this challenge of job hopping? Ryan recommends that managers and owners create robust learning and development opportunities for their employees. If the goal is to retain the next generations, then there needs to be multiple avenues where they can learn and grow within the company.
According to Ryan, these generations are leaving companies at higher rates because there is a lack of leadership development or career opportunities, and issues surrounding flexibility. Millennials no longer look to employers for career longevity; they are looking at their skills sets. We live in an untethered world and technology is rapidly changing the way we do work. Managers and owners should be assessing the organization of their company, and what a traditional career looks like in this day in age. The better we understand each generation, the better we are able to work together.
---
The Atlanta Small Business Network, from start-up to success, we are your go-to resource for small business news, information, resources.

Follow us on Facebook here and stay up to date or catch-up on all our podcasts on demand.
While you're here, don't forget to subscribe to our email newsletter for all the latest business news know-how from Atlanta Small Business Network.
This has been a JBF Business Media production.