Our guest today is here to discuss how you can send better leads down your sales pipeline, and add value to your small business. We're pleased to welcome Mark Hunter, CEO of "The Sales Hunter" and author of the book, High-Profit Prospecting: Powerful Strategies to Find the Best Leads and Drive Breakthrough Sales Results. Welcome to the Atlanta Small Business Show Mark.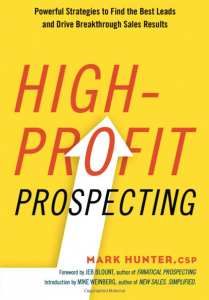 The big takeaway from Mark's new book begins with the problem of having to cut your product price in order to make a sale. Mark says, first of all, you might be starting off with the wrong prospects. You can't turn a Walmart shopper into a Nordstrom's customer, but if you start by targeting the right prospects, it's amazing how you can close them at full price. This begins with an excellent customer experience.
Mark explains, "What people are looking for is an outcome. I would contend that people don't even want to buy anything – they want to have their needs taken care of." Many time, the outcome of what the customer is looking for isn't even what they really want; it's what they think they want.
Mark also discusses great strategies to avoid negotiating with customers, and how to actively listen to them in order to successfully make sales. It's crucial to match your product or service with the benefits that answer your customer's needs and pains.
To get more great sales insight from Mark and other notable experts, check out the Outbound Sales Conference this April 23rd through the 26th at the Georgia World Congress Center.
---
The Atlanta Small Business Network, from start-up to success, we are your go-to resource for small business news, information, resources.

Follow us on Facebook here and stay up to date or catch-up on all our podcasts on demand.
While you're here, don't forget to subscribe to our email newsletter for all the latest business news know-how from Atlanta Small Business Network.
This has been a JBF Business Media production.