Backstabbing. Cliques. Passive aggressiveness. Abuses of power. These are all signs of a toxic culture. In corporate environments, it is easy for cutthroat competition to plant roots among employees, sowing seeds of discord and disorder. Pettiness or worse can lead to disruptions in productivity at best, possible lawsuits at worst and anything from high employee turnover to low recruitment in between.
The good news is that it is possible to turn around a toxic corporate culture. Doing so takes honesty and a willingness to put in the work, and possibly money, to change things, but it can happen. Though challenging, cleaning up toxic culture reaps massive rewards, as you'll find your workplace more energized and focused than ever.
Let's Talk Elephants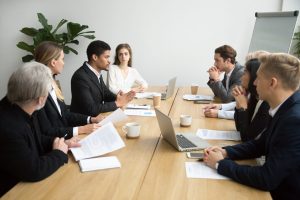 If you're genuinely committed to changing your corporate culture and getting a fresh start, it's crucial that you be open to addressing the elephants in the room. This means being honest about what's not working. Is it that you have a disrespectful manager? Are your reward systems creating internal competition instead of fostering community? Could it be your own attitude towards the current hierarchy or business model? It takes bravery to confront what is wrong, but this step is necessary. Any changes you make that don't address the underlying issues are doomed to fail.
Shut Down Negativity
Once you've discovered the source, or sources, of negativity in your business, it's important to shut them down. This might take the form of paying severance to employees who bully others, or who aren't on board with the direction of the company. Alternately, it could mean bringing an end to programs you'd really believed in, because as good as they may be in theory, in practice they may be backfiring.  
Craft a Vision
Once you've put a tourniquet on existing sources of toxicity, it is time to make sure you have a vision of what you want your workplace culture to be like. Look to your company values and use them to guide your plan. Think of specific details that could bring about the kind of culture you desire. Collaborate with your team and employees, getting as much input as possible. Focus on things that will foster community within your workspace as well as your company overall.
Get Started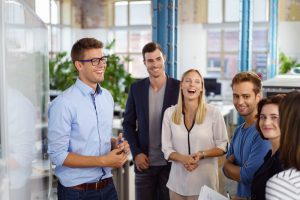 Don't leave your vision on the drawing board. It's important to put your initiatives into place and actively engage in them. If things are really terrible, you may want to launch a widescale change all at once. Otherwise, start with introducing one or two things at a time, giving them a chance to take root. Again, there may be some financial investment to produce the desired effects. This is worthwhile as the investment will be paid off in long-term employee commitment and productivity.
Stay Plugged In
Finally, make sure to create and maintain open, safe means of communication between yourself and your employees. A breeder of toxic culter is often the feeling that the upper echelons of a company don't respect the opinions or thoughts of the lower levels. Institute an "open door" policy and encourage mingling and discussion. As things progress, use this valuable feedback to adjust your efforts so that you can continue on an upward trajectory.
---
The Atlanta Small Business Network, from start-up to success, we are your go-to resource for small business news, expert advice, information, and event coverage.

Follow us on Facebook here and stay up to date or catch-up on all our podcasts on demand.
While you're here, don't forget to subscribe to our email newsletter for all the latest business news know-how from Atlanta Small Business Network.
This has been a JBF Business Media production.