In today's segment, we are joined by public health professional and TEDxAtlanta speaker, Trish P. Miller. Inspired by her near drowning experience as an adult, Trish founded the nonprofit organization SwemKids, a program designed to keep children safe in and around water by introducing it them to it early and often.
SwemKids is an in-school, introductory learning program for elementary and middle school-aged children. In their first phase, SwemKids is partnering with Atlanta Public Schools and piloting the program with a second-grade class and a sixth-grade class.
When Trish was 19 years, she was vacationing with her friends during spring break, and they decided to spend some time relaxing at a pool. At this time, Trish did not know how to swim. After telling her friends that she wasn't able to swim, they offered to teach her. One quick lesson later, Trish was feeling confident and decided to swim in the deep end of the pool. However, Trish did not know how to tread water and started to struggle. Fortunately, her friends were strong swimmers and were able to rescue her successfully. After that traumatic experience, Trish decided that no child should grow up without the opportunity to learn to swim.
In her career working in the public health sector, Trish began to research the socio-economic data and statistics that surround certain populations and their access to learning skills like water safety. It was then, that SwemKids was born, to help address this public health emergency that not many people know about. Swimming is not just a leisurely, recreational activity, it is a iife-saving skill that everyone should have access to.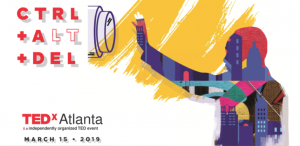 To learn more about Trish and her non-profit, SwemKids, be sure to check out her TED Talk at this year's TEDxAtlanta event on March 15th! The event is currently sold out, but you can watch a livestream of the show right here. For a chance to win 2 tickets to this year's TEDxAtlanta event, check out our Facebook page for entry details. You have until March 8th to enter. Good luck!
---
The Atlanta Small Business Network, from start-up to success, we are your go-to resource for small business news, expert advice, information, and event coverage.

Follow us on Facebook here and stay up to date or catch-up on all our podcasts on demand.
While you're here, don't forget to subscribe to our email newsletter for all the latest business news know-how from Atlanta Small Business Network.
This has been a JBF Business Media production.