According to a report from the World Economic Forum, workplace positivity increases when employees are given increased flexibility in their responsibilities. A positive environment encourages employees to perform better and more efficiently while also receiving support from coworkers. Joining us today, is Jon Gordon, business consultant, and author of 9 business books including The Power of a Positive Team, Jon's latest guide to the principles and practices that build great teams.
Jon says that while he is very passionate about developing positive leaders, teams, and organizations, he was not always positive himself. Years ago, Jon was a very negative person by his own admission. So much so, that his marriage began to suffer greatly. That was around 2001, and it was a huge wake-up call for Jon that he needed to make some serious changes in his life. So, he started researching all of the ways he could be more positive and started publishing weekly tips on his website. This eventually leads him to publish the Energy Bus. The book was picked up by major companies and corporations looking to hone in on the positive strategies and skills that Jon lived by.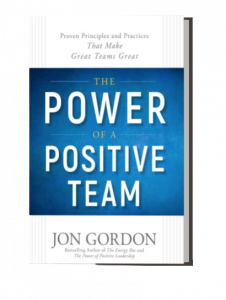 In his latest book, The Power of a Positive Team, Jon help teams come together with optimism, belief, connection, and commitment to be a stronger team. The book acts as a framework for what makes great teams, great. It all starts with a shared vision and purpose. What do we want to create together? What are our standards? How do we create a positive culture? it all begins by leading with optimism and belief, and staying positive even though you know challenges are coming. Transferring your belief to your team is the mark of a true leader.
Jon also authored the best-selling book "The Energy Bus: 10 Rules to Fuel Your Life, Work and Team with Positive Energy". This book really put Jon on the map, and many large corporations use the book as a guide for approaching life and work with the kind of positive thinking that leads to success. The 10 rules include:
You're the driver of your bus
Desire, vision, and focus move your bus in the right direction
Fuel your ride with positive energy
Invite people on your bus and share your vision for the road ahead
Don't waste energy on those who don't get on your bus
Post a sign that says, "no energy vampires allowed" on your bus
Enthusiasm attracts more passengers and energizes them during the ride
Love your passengers
Drive with purpose
Have fun and enjoy the ride