Branching out on your own and starting a business can be an exciting and uncertain time. There are many challenges to consider when trying to launch a new venture, but the potential rewards are endless. That's why it's crucial to keep a positive attitude, even when the stresses of running a start-up try to bring you down.
The Psychology of Confidence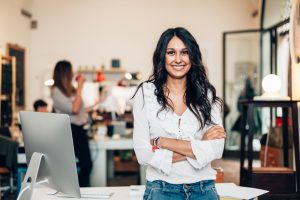 Striking the balance between confidence and caution is key to running to a successful business. Too much confidence can make you blind to un-anticipated obstacles, and lead you to overestimate your abilities. Too little confidence can prevent you from being decisive and seizing golden opportunities. Finding that middle ground and exhibiting just the right amount of confidence will boost your credibility and instill faith amongst your customers and employees.
However, there would be no confidence without a positive attitude. Positivity lays the stable foundation for confidence, and you'll find that working within a positive mindset will give you and your business a framework on which to build success.
What Can You Do to be More Positive?
Do you ever find yourself dwelling on negative experiences? Maybe you read a not-so-favorable review of your product or service in a local publication, or maybe an investor pulled their support right at the last moment. These situations leave lasting impressions on our psyche. How often do you and your friends lament about all the good things that have happened in life?
As a business owner, self-doubt can be the kiss of death, and it's important to remain positive for the sake of your business and your health. Here are some tips to help you become more positive:
Express gratitude: When you are actively thankful for what you currently have, feelings of love and appreciation will follow and erase any trace of negativity.
Give back: The easiest way to rid yourself of negative emotions is to do something selfless for another person. Making a donation to a local charity or doing something as simple as complimenting a coworker on their outfit can generate positive emotions.
Change your physicality: Deep breathing exercises have been proven to alleviate the symptoms of anxiety that you might be feeling. Meditating, positive posture, and smiling can also connect your mind, body, and soul and bring them into one.
Surround yourself with positive co-workers: Creating a culture of positivity within your business begins with you and who you choose to employ. Surround yourself with positivity and it becomes infectious.
Benefits of Positivity
Once you have implemented these changes, you will be astounded by the results. The benefits of positivity include:
More energy
Decisiveness
Resilience
Better problem solving
Heightened critical thinking
And it's not a coincidence that these are the same characteristics observed in the most successful business owners. If you believe in yourself and your vision, and fully immerse yourself in positivity, you will certainly be on your way to success.
References:
https://www.business.com/articles/the-power-of-positive-thinking-in-business/
https://www.entrepreneur.com/article/230613
https://www.psychologytoday.com/us/blog/hope-relationships/201409/6-ways-become-more-positive-today