On today's show, we welcome back Scott Mautz, Founder, and CEO of Profound Performance, and best-selling author of Find the Fire: Ignite Your Inspiration–and Make Work Exciting Again. Last time we had Scott on the show, we talked about what truly motivates and engages today's workforce. In this segment, we take a deep dive into how business owners or leaders can reignite the fire and passion in their own work, and the work of their employees.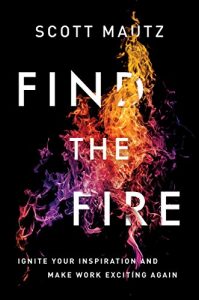 According to Scott, 70 percent of the American workforce at any given time can be coded as disengaged, but that's only the first part of the problem. The second part is that most of the workforce, who do want to get reinspired, rely on their company or boss to provide that motivation. Once a person realizes that they need to take responsibility for their own inspiration and motivation, they begin to look inward, but that is not as easy as it sounds. They need to ask themselves, "How did I lose my inspiration in the first place?"
In Scott's book, Find the Fire, he has identified nine forces or 'anti-muses' that are sucking the life out of workdays. In this segment, he outlines four of them for us, which include:
Fear: It disrupts the preparedness of our minds, blocks actions, and dissuades discovery which leads to a distortion of reality
Settling and Boredom: We forget that we are responsible for our own sense of growth, and we forget what it means to be challenged in life.
Overwhelmed and Inundation: Feelings of having too much to do on any given day.
Sense of Insignificance: Now, the largest cohort of workers, millennials are feeling insignificant at alarming rates. They are not connecting to a meaning or purpose in their work.
In order for entrepreneurs and business owners to rekindle their inspiration and deal with feelings of fear, boredom, and feeling overwhelmed, Scott says first and foremost that you have to take responsibility. Scott says you having to be working on your life, not just in your life.
To find out more about Scott, be sure to catch our previous conversation with him here.
---
The Atlanta Small Business Network, from start-up to success, we are your go-to resource for small business news, information, resources.

Follow us on Facebook here and stay up to date or catch-up on all our podcasts on demand.
While you're here, don't forget to subscribe to our email newsletter for all the latest business news know-how from Atlanta Small Business Network.
This has been a JBF Business Media production.