The Gartner Marketing Symposium/Xpo, which was held on April 29 to May 1, 2019, in San Diego, has offered valuable insights on how incredibly intertwined remaining competitive in a rapidly evolving marketplace is with efforts to help customers, both prospective and existing ones. Gartner experts offer these four strategies to marketers who want to help their customers and enhance engagement with their respective target audiences.
Personalize How You Help Your Customers
Personalizing your customer assistance campaigns is no longer as complicated as it sounds. Marketers these days have access to numerous digital technology tools, advanced analytics, and big data, both from first-party and third-party sources. Devising relevant ways to connect with customers is crucial to standing out in a sea of distracting and conflicting traffic of digital information. Having the ability to personalize your efforts to help your customers keeps your brand in the loop even through the chaotic stream of digital clutter. 
Just don't overdo the personalization and targeted marketing. Research shows that 38 percent of people tend to unsubscribe from marketing campaigns whose personalization is deemed "creepy." Consider boosting your personalization by specifically tailoring your messaging to make the customer feel he has accomplished something with his purchase decisions.
Gartner research has shown that 44 percent of people making a purchase feel that they have missed out on an option that is better than what they just bought. Forty-four percent is a lot of worried customers, so it helps to foster a connection with overwhelmed and worried customers. Help them make the right choices, and they will remember your brand for the empowerment it has extended to them. This is how your brand is going to stay relevant and competitive at all times.
Assist Customers' Buying Choices through Your B2B Content Marketing
Gartner research has demonstrated that clients who have been given personalized information on how to make their buying process as effortless as possible are three times as likely to purchase, with minimal regret, the more expensive option next time. Suppliers must keep this in mind when attracting potential B2B customers.
Your B2B content marketing strategies must pay attention to what Gartner experts termed as "buyer enablement," or the set of information and digital tools made available to clients to aid them in making decisions about their purchases, as well as assisting them in completing what may be a complicated purchase process.
Turn to CX for Reassuring Customers about Their Purchase Decisions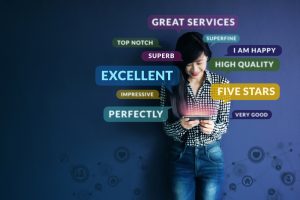 Cultivate long-term customer loyalty by smartly investing in customer experience (CX) efforts. Your future CX investments can be directed by this goal: make customers feel satisfied with their purchases. Consider CX investments on bettering the skills of your service reps, maintaining a highly functional and user-friendly website design with a mobile counterpart, as well as having faster response times.
Set Up Your Brand Initiatives in Such a Way that They Make Customers Feel Good about Themselves
The intensity of customer connection with your brand has a lot to do with whether or not your brand makes customers feel good about themselves and helps them achieve their goals. Gartner research has shown that banking on the "shared values" mode of fostering a connection with consumers is not that effective in making people actually connect with your brand and consequently with what you are selling. 
The bottom line is that you need to nurture the perception that your brand can successfully deliver a host of personal benefits to your target audience. Because research has shown that people are three times more likely to feel a strong connection with a brand that offers this level of engagement.
---
The Atlanta Small Business Network, from start-up to success, we are your go-to resource for small business news, information, resources.

Follow us on Facebook here and stay up to date or catch-up on all our podcasts on demand.
While you're here, don't forget to subscribe to our email newsletter for all the latest business news know-how from Atlanta Small Business Network.
This has been a JBF Business Media production.