As a small business owner, it's crucial to create a positive distinction between your business and your competition. But you might ask yourself, what comes after that? How do you hold on to that distinction, and let it grow with your company? Here to tell us how to maintain the highest levels of quality in your business through innovation, customer experience, and company culture is Scott McKain. Scott is a business consultant, and author of four business best-sellers including the latest titled, ICONIC: How Organizations and Leaders Attain, Sustain, and Regain the Ultimate Level of Distinction.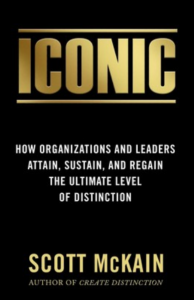 Scott begins by outlining the five factors of ICONIC performance:
Play offense: Regardless of the size of your business, you have to be aware of your competition. Focus on your customer and play your own unique game.
Get the promise and performance right: "Under-promise and over-deliver" is a horrible strategy that eventually alienates your customers.
Go negative: Don't be afraid of going negative. ICONIC business owners want to know all of the problems in their business. They can begin to fix the process, and find solutions.
Stop selling: Business owners need to focus their energy on the total experience.
Reciprocal respect: ICONIC organizations have created cultures of mutual respect between upper management and lower-level employees. Employees are your greatest asset.
Scott explains, "We get so involved in trying to reduce expenses, we don't think longer-term of lifetime customer value and retention of great employees." Creating a company culture that prioritizes positive distinction, means that everyone will benefit, from customers to employees, to owners.
---
The Atlanta Small Business Network, from start-up to success, we are your go-to resource for small business news, information, resources.

Follow us on Facebook here and stay up to date or catch-up on all our podcasts on demand.
While you're here, don't forget to subscribe to our email newsletter for all the latest business news know-how from Atlanta Small Business Network.
This has been a JBF Business Media production.