It's no longer enough to provide your customer with a good experience, you need to give them a remarkable one. Drawing on over 30 years of consulting experience with brands like the Ritz Carlton Hotels, Harley Davidson, and USAA, our next guest has created a guide with great strategies for delivering the unique buying experiences that customers expect today. We recently spoke with Chip Bell, Atlanta based customer service expert, and author of over twenty books including The 9 ½ Principles of Innovative Service, to discuss what you need in order to lead a customer-centric operation.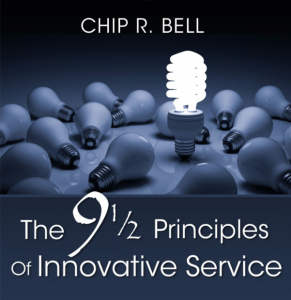 Chip has worked with businesses all over the country in creating innovative and inventive service. You need to create the kind of experiences that get people to recommend you and get people to tell positive stories about their experience. That is the pinnacle of customer advocacy.
According to Chip, too much time is spent on the transaction. What small business owners should really want and need are long-term relationships. We all know that it takes substantially more money to acquire a new customer than it takes to keep an older one. So, wise money needs to be spent on maintaining those loyal relationships.
With the boom of technology over recent years, it is becoming increasingly difficult for businesses to form those key relationships. However, Chip Bell assures us that there are still plenty of ways to build brand loyalty. It's all about how you build an affinity for your brand, among your customers.
Today's fad becomes tomorrow's antique, and your business needs to keep up with the customer's ever-changing expectations. To do that effectively, you need to stay close to the customer. Customers assume today that they will be getting a good product or a good outcome, and they assume it'll come at a fair price. Chip explains, "You give them a shotty experience or a shotty outcome, an inaccurate outcome, and product that doesn't work, and at a price that's not fair – you're going to be out of business very quickly."
---
The Atlanta Small Business Network, from start-up to success, we are your go-to resource for small business news, information, resources.

Follow us on Facebook here and stay up to date or catch-up on all our podcasts on demand.
While you're here, don't forget to subscribe to our email newsletter for all the latest business news know-how from Atlanta Small Business Network.
This has been a JBF Business Media production.