Entrepreneurs just starting out have a hard time deciding how much to pay themselves or even if they should. Here's why. You're putting every dollar you earn back into the company to make it more successful. You should have a salary, though, and figuring out how much to pay yourself is relatively easy

You Cost Money?
One mistake that entrepreneurs initially make is forgetting to add themselves to the list of business expenses. The cost of operations includes more than buying office supplies and computer equipment. It consists of paying employees. That means you too. When you add the extra $60,000 to $70,000 for your salary (depending upon where you live), suddenly revenue streams look like they've turned into a trickle. Are these amounts unrealistic, especially in your first few years of business? Again, it depends.
Do You Have Help?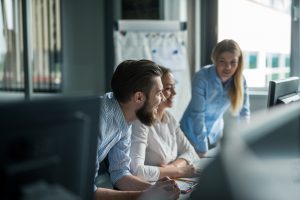 When you're deciding what to pay yourself, take into consideration whether you have additional support, like your parents or a spouse. Not having to worry about rent gives you more breathing room, at least in the first year or two. However, say you aren't in that happy situation, and the business requires capital up front. You can apply for a small business loan as a kick-start or get private funding by selling your idea to multiple investors. When you state your case to either one, include your salary as an expense to be paid as well.
Where Do You Reside?
You know that the cost of living differs from city to city, but by how much? Make a list of all the bills you pay. Include everything from the electricity and cable to groceries and rent. The cost of living in an average US city is approximately $2875 a month. This is bare bones, so you won't be going out for dinner any time soon. Avoid those inconvenient emergencies that seem to crop up at the worst times too, like the need for new tires, trips to the hospital for a broken arm, or having to buy $100 worth of Girl Scout cookies from your favorite niece. With social security and federal taxes, your gross earnings each month should be at least $4500 – $5000. If you plan to work in a big city, the number will be much higher
When Will You Prosper?
Having capital at the beginning of your journey is crucial, because it takes three years to start making a profit. You'll need enough money to survive for 36 months. During your first year, expect to be broke. The following year, you should break even if the business is on the right track. In year 3, you begin to recoup your initial investment. By your fourth year, you're making a profit.
Figuring out how much to pay yourself when you're the boss isn't that difficult. Decide how much money you need to live a frugal but decent lifestyle for 36 months and make sure to include your salary in the cost of operations.