Social media is joining in on the effort to support small businesses during the COVID-19 crisis. Platforms like Facebook, Instagram, Pinterest, and YouTube, have stepped up to make it easier for small business owners to reach their customers and generate revenue. With a global audience of nearly four billion individuals, social media is a crucial means of reaching targeted audiences. For a look into how social media platforms are helping small businesses reach their customers effectively, check out their tools. 
Instagram's Stories, Stickers, and Gift Cards
Instagram has enabled businesses to include a "Gift Card" button on their main profile page so customers can easily offer their support. Business users can also add stickers on their Instagram Stories that allows customers to purchase gift cards, take advantage of discount offers, or order goods like food and clothing. Instagram has been a rising platform for businesses to generate revenue. Now, the medium has made it even easier for companies to engage customers directly from their profiles and Instagram Stories.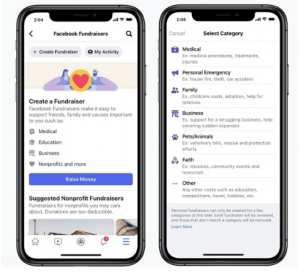 Facebook Fundraisers and the Business Resource Hub
Many small businesses have used platforms like GoFundMe to set up personal fundraisers to allow customers to support the business itself—as well as the staff—during this time. However, Facebook has jumped in also to enable companies to do the same. Business owners can set up personal fundraisers on Facebook, and add stickers on Instagram Stories to take customers to the Facebook fundraiser. In addition to fundraising, Facebook is offering additional help in the form of its Business Resource Hub and messaging communication templates. The former guides businesses on how to diminish interruptions during the outbreak, while the latter is a set of templates that helps companies produce critical messaging about COVID-19 to customers. Business owners can also apply for grants and advertising credits using these resources. 
Pinterest Highlights Sustainable Small Business Brands
The platform remarked that searches for "support small business" rose 351 percent on Pinterest and that inquiries for eco-friendly and zero-waste companies also experienced a significant increase. As a result, the brand decided to address both search interests by launching their small business promotion efforts. In honor of Earth Day on April 22nd, Pinterest stepped up to promote sustainable products from small businesses with an eco-friendly focus. The social media platform added a variety of new sustainable products to the Pinterest shop from 21 small-to-medium-sized companies. 
YouTube's Video Builder Tool
YouTube has been working on creating a tool for businesses to develop quality video content more efficiently, even if they do not have access to capable video editing equipment. The video-sharing platform accelerated the release of this tool to help meet the need of small businesses during COVID-19. According to Ari Miller, director of project management at YouTube Ads, "the YouTube Video Builder Tool allows users to create videos from scratch and animate images, texts, logos." Users can create videos and quickly share them on YouTube or use them in an ad or email campaign. This tool gives small business owners a robust option for rapidly getting their messages out to their customers during this time of COVID-19. 
Social Media is Still An Excellent Tool to Meet Customers Where They Are During COVID-19
If you are a business owner who has yet to jump into social media marketing, this is a great time to start—or ramp up your current efforts. More people are at home, which likely means they have more time to browse social media content. Also, many customers are looking for ways to support local and small businesses. Your goal is to make that process as straightforward as possible, and many of the most popular social media platforms are making it easy to do that. Find the platforms that fit best with your marketing strategies and start engaging. These efforts, combined with others, could be a great way to generate revenue for your business and staff during these times. 
---
The Atlanta Small Business Network, from start-up to success, we are your go-to resource for small business news, expert advice, information, and event coverage.
Follow us on Facebook here and stay up to date or catch-up on all our podcasts on demand.
While you're here, don't forget to subscribe to our email newsletter for all the latest business news know-how from Atlanta Small Business Network.