There have been a variety of unforeseen effects of the COVID-19 outbreak. For some, it has been the increased feelings of isolation due to social distancing. For others, it's having to move from the office to working remotely. Unfortunately, the impact for small businesses has been a growing issue of concern for government officials, business owners, and the employees that work at their companies. 
The owners of restaurants, cafes, hotels, bars, retail companies, and many other small businesses have had to shut down operations, which means no work or revenue to keep their workers. 
While the Senate just agreed on an economic relief and stimulus bill, it may take weeks to get these resources to individuals. Nevertheless, many workers and their employers are in immediate need of assistance. So, whether you are a business owner or someone who was employed by one, there are some Atlanta-based and national resources that you can tap into to survive these uncertain times. 
Here is a list of eight current relief programs for business owners and employees impacted by COVID-19:
The Atlanta Community Food Bank 
Atlanta is fortunate to have an excellent resource in the Atlanta Community Food Bank. This organization distributed 69.3 million pounds of food during the 2016-2017 fiscal year. If you find yourself in a situation where you are not able to afford food or want to point your employees to an organization that can support them in this area, check out the Atlanta Community Food Bank's resources. They currently have a navigational page created to aid individuals in finding the food pantries that are closest to them. 
Invest Atlanta received $1.5 million in funding from the City of Atlanta to disperse to small business owners who need to take care of business-related expenses or continue paying workers. Small business owners can attain this money through zero-interest loans. If interested, visit their website, watch the video, and complete the application process. 
Many individuals are experiencing delays in filing unemployment claims as well as receiving checks. However, unemployment is a resource that you are entitled to if you find yourself laid off during this COVID-19 outbreak. So, be sure to visit the Georgia Department of Labor website. From the site, you can learn about the assistance offered, file for an insurance claim, and monitor the progress of the request. 
Related: How to Support Your Local Small Businesses During The COVID-19 Epidemic
Many of the city's local eateries and retail businesses are reaching out to the public for donations to offer relief to staff. If you are a worker, see if your business is listed there and find out how any donated funds will be dispersed. If you are a business owner who has had to let go of staff due to lack of funds, think about starting a GoFundMe campaign and invite individuals in your community to donate. Local restaurants like The EARL, Vintage Pizzeria, and Venkman's Restaurant all have open campaigns.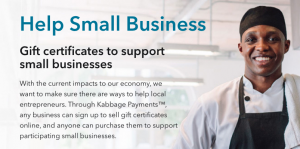 If you are looking for a way to allow your customers to support your business, Kabbage is making it smooth and straightforward. Metro Atlanta company Kabbage launched a website that will enable customers to purchase gift cards in the amount of $15 to $500 from their favorite small business. The money from purchased gift cards will be deposited into the business' account the next day. According to Kabbage co-founder and CEO Rob Frohwein, the goal is to make it easier for small businesses to increase cash flow into their business from their customer base. 
Kiva is a nonprofit organization that facilitates the lending of microloans to entrepreneurs from underserved communities. The CEO, Neville Crawley, just committed to offering zero percent interest rate loans to selected small business owners. The organization is expanding eligibility, and are offering a maximum of $15,000 in loans instead of the usual $10,000. Kiva will also provide a grace period of six months for loan repayment. 
Mainvest Main Street Initiative
Investment marketplace Mainvest is providing a new incentive for small business owners who have had to shut the doors of their brick-and-mortar businesses. If your business launches a campaign to raise capital from investors on the site, it can be eligible to receive a $2,000 zero-interest loan. In addition to the loan, participants can continue to use the platform to raise investment capital from those in their network. 
Atlanta-based restaurant, The Staplehouse, and the Giving Kitchen have joined forces to create "The Giving Soup Kitchen." The restaurant, located on Edgewood Avenue, is taking excess ingredients and creating up to 50 meals a day for service industry workers who find themselves out of work. Many other restaurants are turning their places of business into areas where laid-off patrons can receive a free meal. Another notable example is Sun in My Belly, which has created a small general store for individuals to find affordable goods and food items. These are two great resources you can take advantage of as a worker, or direct your employees to as a business owner. 
Your Small Business Can Weather This Storm 
These are unpredictable times, and it can be challenging to know what to do next. Whether you are a small business owner, or a worker negatively impacted by this situation, we hope that the resources above can give you a starting point for a strategy to handle this crisis. Keep checking with ASBN for more tips and resources on navigating this ever-evolving business landscape.