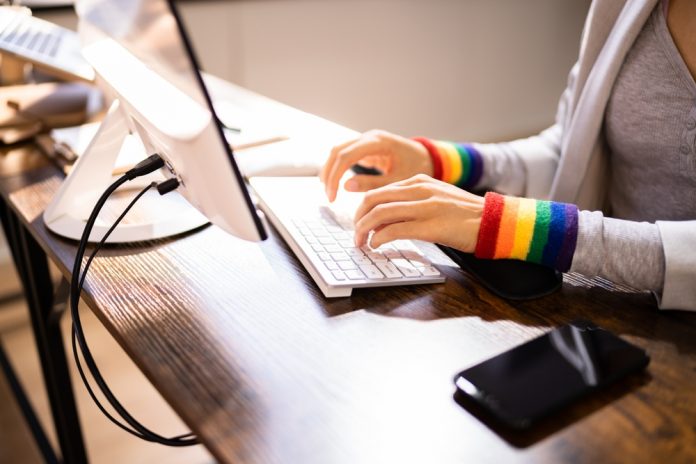 There are many advantages to having an LGBTQ+-inclusive workplace, particularly ensuring that workers of all sexual orientations and gender identities feel comfortable and valued. Businesses also benefit from LGBTQ+ inclusive workplaces in terms of profitability, efficiency, and a plus point. 
LGBTQ+ inclusion initiatives are nothing new for US businesses and businesses worldwide. However, there has been an increase in recent years in many regions of the world in the desire to foster a culture of tolerance for LGBTQ people, particularly in the workplace. To understand more about how diversity and inclusivity impact a workplace, let's read more about it. 
Importance of Diversity, Equity, and Inclusion in the Workplace
Diversity, equity, and inclusion in a company's culture may be attributed to how well they stimulate innovation, new viewpoints, and comprehension. People from various ethnicities, abilities, genders, ages, sexual orientations, and other varied backgrounds might feel more at ease in the workplace by applying DE&I. 
It can result in new problem-solving approaches, goods and services creation, and improved knowledge of our surroundings. People are happier and more productive when they feel appreciated and respected, another benefit of inclusion in any workplace. 
Ongoing Discrimination Faced by LGBTQ+ Talent
As reported by the American Civil Liberties Union, about 500 anti-LGBTQ+ measures were introduced before state legislatures some time ago, which is a record-breaking amount. These initiatives concentrate on education and gender-affirming healthcare for transgender children and youth. State governments are working to ban conversations on gender identity and sexual orientation in the classroom as well. A minimum of 17 states in the US have passed legislation limiting or outlawing gender-affirming treatment of transgender children, but other states have had its enforcement temporarily halted by judges.  
Overview of Glassdoor's Report on the LGBTQ+ Employee Experience
Glassdoor's recent evaluations from US full-time or part-time workers who self-identified as LGBTQ+ or as not belonging to the LGBTQ+ group were posted between April 25, 2021, and April 24, 2022. There were 209,112 reviews total in the dataset, including 27,014 from LGBTQ+ individuals. Two thousand six hundred twenty-four people identifying as transgender workers had written evaluations out of the 27,014 ratings by self-identifying LGBTQ+ Glassdoor users. 
1. IKEA
IKEA was established in 1943 by 17-year-old Ingvar Kamprad, who sold items like pencils and wallets. Ingvar Kamprad was always committed to providing the greatest pricing while never compromising quality. IKEA's culture and identity are firmly rooted in Ingvar's original concept, which was to produce both affordable and high-quality things. 
Demonstrated Commitment to LGBTQ+ Inclusion
IKEA has established a private LGBTQ+ Co-Worker Resource Group to provide a welcoming environment for colleagues, executives, and supporters to unite to champion employees from underrepresented or marginalized groups and promote a diverse and inclusive workplace. 
The company collaborates closely with partners Stonewall and Global Butterflies to ensure their LGBTQ+ coworkers feel at home at IKEA. Their Win-Win Mentorship program matches coworkers with senior leaders in the organization for reciprocal mentoring to create possibilities for coworkers from underrepresented groups to learn and develop.  
Employee Testimonials Highlighting the Positive LGBTQ+ Experience
Employees share their satisfactory testimonials over various online sites about the inclusivity and diversification they experienced at the IKEA offices. Most people review the company to be offering great work/family balance, paying well and also greatly helping people from the LGBTQ+ community to come out and feel at ease while working at IKEA offices.  
2. MICROSOFT
In 1975, Microsoft was established. The company creates and promotes hardware, services, and software products that provide people's lives with additional opportunities, convenience, and value. Microsoft operates internationally and has offices across more than a hundred nations. In addition to inventing and selling hardware items, the company also creates, licenses, and supports various software goods and services.  
Inclusive Policies and Practices Implemented by the Company
On the national benchmarking method that assesses business policies and practices relevant to lesbian, homosexual, bisexual, transgender, and queer employees, Microsoft has maintained a score of 100 for more than ten years. In addition to being a pioneer in sexual orientation in its business anti-discrimination policy, Microsoft continues to advance to support its employees. For instance, it has expanded its health benefits to cover the medical needs of transgender employees and their dependents who work in the US. 
The internal employee organization Lesbian and Gay Employees at Microsoft, or GLEAM, which encompasses queer, transgender, and bisexual employees and their allies, is crucial for fostering a healthy work environment.  
Success Stories of LGBTQ+ Employees with the Organization
With the growing inclusivity and backlash worldwide for the LGBTQ+ community, people are coming out more than ever to show their identity. At Microsoft, people from managerial positions and employees are coming out and feeling accepted and inclusive, working in an accepted environment. People have constantly been sharing their success stories on various sites regarding how they conquered their stigmas and came out to feel accepted and loved at their Microsoft workplace.  
3. SLACK 
The Slack company collaborates with partners worldwide to create integrations and applications that expedite your work, automate tedious chores, and add context to your Slack discussions. The Slack platform team has over 2,500+ apps and a strong API. They are the biggest SaaS providers in the world and have more than 1000 applications that are reshaping the nature of work.  
Notable LGBTQ+ Initiatives and Programs
Before signing any contracts, many members of the LGBTQIA+ community begin their search for an inclusive workplace and find inclusivity in Slack through initiatives that assist underrepresented minorities (URMs) in the tech industry and offer assistance through family-forming benefits. The LGBTQIA+ Slack community draws inspiration from their work and one another.  
Impact of These Initiatives on LGBTQ+ Employees' Experiences
Between January 1, 2020, and December 31, 2020, the company added 516 workers to its worldwide staff, bringing the number to 2,527 people. While underrepresented minorities (URMs) in positions of leadership, defined as director level or above, continued to rise, there was also a modest overall reduction in URMs across the whole employee base at the same time.  
Their diversity report from 2020 demonstrates that they have hired more URMs during the pandemic, and now it has been especially pronounced among URM groups. To better understand the unique experiences of URMs at Slack, the company has taken several steps, such as collaborating with Paradigm, a leader in diversity consulting, to analyze the results of their engagement survey and data from exit interviews.  
4. AMERICAN EXPRESS
American Express is a financial institution based in the United States that mainly issues credit cards, manages payments and offers travel-related services globally. Today, American Express is a leading provider of corporate, small-company, and consumer credit cards. Traveler's checks, credit cards, tour packages, corporate and individual travel planning services, and agencies for making hotel and rental car bookings are just a few of the company's travel-related services.  
Supportive LGBTQ+ Employee Resource Groups or Networks
The company's Employee Networks represent the whole range of inclusivity at American Express, including ethnicity, gender, faith, disability, gender identity, sexual orientation, generations, and veteran status, with 16 networks and almost 100 chapters worldwide. The Employee resource group and network that support the LGBTQ+ initiative in American Express are:  
PRIDE Employee Network: The PRIDE Employee Network is dedicated to making improvements that allow all individuals, regardless of their sexuality or gender identity, to be accepted and cherished. It does this by fostering a work environment that includes and supports lesbian, gay, bisexual, and transgender employees. 
Case Study of a Successful LGBTQ+ Inclusion Campaign
The American Express Company has grown to be one of the largest mainstream marketers to run advertisements in magazines targeted towards LGBT customers, even customizing certain general-market campaigns to such publications, according to a 1994 New York Times article. The special advertising in Out and 10 Percent magazines exhibited the trademarks of two men and two women rather than the spouses and wives featured in the standard ads. Afterward, Lesbians hugging on a cruise ship were seen in a 1998 American Express Financial Services advertisement.  
5. APPLE
With a market worth of more than $2 trillion, Apple is among the biggest firms in the world. Apple remarkably positioned its goods to lead in the market. Graphical user interfaces (GUIs), personal computers, mp3 players, cell phones, smartwatches, and tablets are all created by them. Instead, they created some original iterations of these items that were well-designed, developed, and simple to use, encouraging widespread market acceptance. 
LGBTQ+ Representation in Leadership Positions
In 2014, the typically secretive Apple CEO came out in public by disclosing his gender identity in an open letter that was printed in Bloomberg Businessweek. He became the first homosexual CEO of a Fortune 500 business as a result. The 58-year-old discussed various issues, including sexual orientation and adolescents, in an interview with People en Espanol published on Thursday. This outspokenness of the CEO shed great light on the topic and inclusivity of the LGBTQ+ community in workplaces when people in leadership roles started coming out. 
Strategies Employed to Foster an Inclusive Work Environment for LGBTQ+ Employees
Apple's Diversity Network Associations (DNAs) have provided a sense of belonging and connection to its employees for over 35 years. Through networking, leadership development, education, and volunteerism, these employee-led groups provide a sense of community while fostering open communication that strengthens allegiance throughout Apple. They continue to fight tenaciously for the rights of LGBTQ+ persons since they are also fundamental human rights.  
Conclusion
As seen in the above-mentioned detailed analysis of each company, IKEA, MICROSOFT, APPLE, SLACK, and AMERICAN EXPRESS have come a long way in expressing their support and solidarity for the LGBTQ+ community. Some companies have also been supporting and recognizing the community when there was little awareness about the "taboo" around.  
With long-lasting and efficient initiatives and support programs, other companies can gather courage and awareness to prioritize LGBTQ+ inclusion and diversification in their workplace to help the community feel at ease.  
However, there is still a sheer need to understand the importance of practicing inclusivity and diversity in workplaces. This can enhance acceptance and tolerance for all employees and people from all communities and ethnic groups, particularly the LGBTQ+ community, which most needs it.