Welcome to Startup Central, the place for entrepreneurs and first-time business owners to hear tactics, techniques, interviews, and commentary. So they can beat the odds and build their business. We go beyond just covering sales, finance, and marketing topics but we'll also tackle the grittier side of entrepreneurship. Like controlling the mindset and dealing with setbacks and relationships. On this week's episode, Cory Mosley discusses going beyond your dreams and investing in yourself.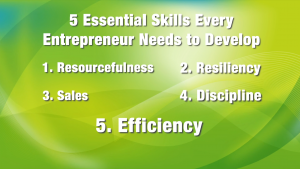 Successful entrepreneurs develop the necessary skills they need to achieve their goals, even if they don't have them, to begin with. This is one of the reasons why it takes some startups years to gain traction and momentum. Products and services typically undergo minimal changes through operation, it is the skill set of the entrepreneur involved that changes and grows over time.
The five essential skills that entrepreneurs need are:
Resourcefulness: The buck stops with you
Resiliency: Bounce back from falls and keep going through adversity
Sales: Selling is a skill
Discipline: Hold yourself accountable
Efficiency: Do everything as quickly as you can without comprising the integrity of excellence.
That's our show for the day. Please like, comment and share this show with someone who needs to see it and get all of our episodes here. For more information on how Cory is fulfilling his mission to help entrepreneurs and business owners create breakthroughs that accelerate growth and maximize revenue, visit him online at corymosley.com. This has been another edition of Startup Central with Cory Mosley, exclusively on the Atlanta Small Business Network.
---
The Atlanta Small Business Network, from start-up to success, we are your go-to resource for small business news, information, resources.

Follow us on Facebook here and stay up to date or catch-up on all our podcasts on demand.
While you're here, don't forget to subscribe to our email newsletter for all the latest business news know-how from Atlanta Small Business Network.
This has been a JBF Business Media production.