Atlanta has become a vibrant ecosystem for startup owners. Over the past decade, many organizations, universities, and corporations have embraced the "startup culture" and have joined together to provide a variety of resources for aspiring innovators who want to try out their next idea. According to Georgia Innovation Crescent, more than 700 startups are located within Metro Atlanta. Atlanta has also been recognized as one of the top five cities for startup businesses. So, there is no better time to begin your startup journey in this southern metropolis. Read on for a list of helpful tools and resources for Atlanta's established and aspiring startup owners.
Accelerators
Atlanta Ventures

Atlanta Ventures is an accelerator program for SaaS entrepreneurs. In partnership with the Atlanta Tech Village, Atlanta Ventures serves the needs of entrepreneurs in the idea, market fit, and scaling stages. The organization offers networking meetups, forums for discussion, strategic plan feedback sessions, classes, and a studio for actual business ideation and development.
Center for Civic Innovation
The Center for Civic Innovation seeks to empower civic entrepreneurs to address Atlanta's most pressing issues of inequality. The Center offers resources for each phase of the startup development process. Workshops and training for the idea stage, a six-month Civic Innovation Fellowship during the pilot process, a one-year residency program for the growth stage, and a Civic Impact Loan for the funding process.
Founder's Institute: Atlanta
The Founder's Institute is a world-class idea stage accelerator and startup launch program. The program helps entrepreneurs build a team, secure advisors, while also raising funds, and ultimately scale their business. The organization offers an intensive 3.5-month program that provides business-building assessments, feedback, and consistent evaluation. After successfully completing the program, members have lifetime access to support programs and global partners.
Start:ME
While many accelerators might come at a cost, Start:ME is free to join. This program is an intensive 14-week small business training program. Members receive training by staff from the Emory Goizueta Business School, connections to mentors and support services, and potential access to grants. In addition to in-person resources, Start:ME also offers business plan and financial starter templates for entrepreneurs in the early stages.
Community and Learning Spaces
Atlanta Technology Development Center (ATDC)
The ATDC offers technology startup entrepreneurs with coaching and mentorship, classes and workshops, peer networking opportunities, and chances to connect with potential customers within the Georgia Tech radius. Members have access to ATDC Investor connect, a program that helps connect ATDC portfolio companies with private capital.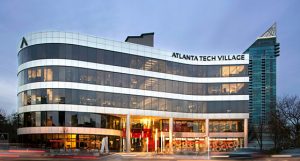 Atlanta Tech Village
Similar to ATDC, the Atlanta Tech Village offers a variety of resources for startup entrepreneurs that includes a dedicated co-working space, mentorships, workshops, and multiple connections to angel investors and potential funders. In addition to these tools, the Atlanta Tech Village also offers a six-month pre-accelerator to help startups receive seed money, connect with an already established business, or join a full-scale accelerator.
IgniteHQ
IgniteHQ is a coworking and resource space for entrepreneurs that was built in partnership with Kennesaw State University. IgniteHQ members have access to advisement from established entrepreneurial professionals, as well as the opportunity to scale their startup through the organization's accelerator partners. Members can test their startup's operations through participation in IgniteHQ's blockchain lab, social impact lab, and KSU business lab. Members can also receive discounts on software tools and professional headshots.
OpportunityHub (OHUB)
A pre-accelerator and incubator, OpportunityHub is an inclusive entrepreneurial and innovation center. OHUB offers spaces for startup owners to learn and develop their ideas across multiple college campuses. They offer a skills development program, funding and investment activities, career opportunities, and high growth company building resources. It is a one-stop shop for those looking to gain skills while they establish their next idea.
Funding
City of Atlanta
The City of Atlanta, in partnership with Invest Atlanta and the state of Georgia, created a list of funding options for aspiring small business owners. The list includes business loans, grant programs, information on tax benefits, and a list of other city and state-based funding resources.
Georgia Research Alliance Venture Fund
The Georgia Research Alliance expands research capacity at Georgia's universities and then helps to fund and develop promising ideas that are discovered. The Georgia Research Alliance does this through their public-private venture capital fund. This process allows a team of professionals, well-versed in science and technology, to work with universities and researchers to fund research-driven startup ideas.
TechSquare Labs
TechSquare Labs provides two avenues for securing startup funding. The organization hosts a startup battle where startup owners present their ideas to VC investors for a chance at receiving $100,000 in funding. In addition to this avenue, startup owners who already have committed investors can also reach out to TechSquare Labs directly. Through the Atlanta Startup Battle competition and weekly events, TechSquare Labs offers a variety of opportunities for startup owners to connect with funders.
Venture Atlanta
Venture Atlanta is an annual conference that takes place in mid to late October. The event creates opportunities for top-tier investors to network and connects with the region's most promising technology companies. There are more than 140 funds represented at the conference, and over 900 attendees. Startup owners can attend leadership panels, networking lunches and dinners, and participate in company presentations.
This list is only a fraction of all the resources available to Metro Atlanta startup owners. For even more startup tools and opportunities take a look at the below sources:
Atlanta SCORE
StartUp Atlanta Resource List
Hypepotamus
---
The Atlanta Small Business Network, from start-up to success, we are your go-to resource for small business news, information, resources.

Follow us on Facebook here and stay up to date or catch-up on all our podcasts on demand.
While you're here, don't forget to subscribe to our email newsletter for all the latest business news know-how from Atlanta Small Business Network.
This has been a JBF Business Media production.