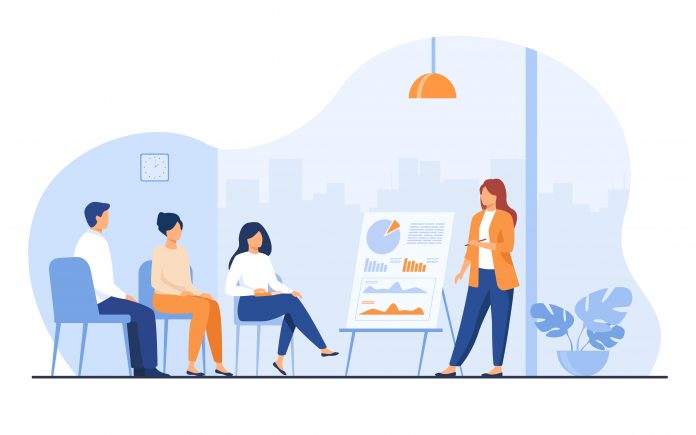 Coming up with a successful business idea is easy. But inspiring others to believe in that idea is an art, and it's not as simple as you might think.
Whether it's investors, customers, or business partners, anyone you pitch to works with limited funds and resources. So, if your presentation doesn't stand out, they'll have a solid reason to turn you down in a heartbeat. The competition is so intense that investors have been reported to fund only 1% of the pitches they receive.
So, how do you develop a business pitch that keeps your audience at the edge of their seat? That's what we'll explore today as we explore 8 expert-recommended ways to make your business pitch one of a kind.
Practice Thoroughly
Practice is always essential. Your business pitch idea doesn't really matter if you can't deliver it effectively.
So, get in front of the mirror and practice your pitch repeatedly. Then, do it again in front of your family and friends. Note their reactions and take their criticism seriously. Rewrite your pitch if you have to, and exercise it regularly until your whole pitch comes out organically.
It might be tiring to review the same speech time and again, but the little bumps and errors you'll identify will benefit you in the long run. Remember, you can hear your speech thousands of times, but you'll only get one shot in front of your audience, so why not give them the best business pitch you can come up with. These guys attend to hundreds of pitches daily, so they can tell if your pitch sounds blatantly robotic or forced.
Have a Pitch Deck Ready
A pitch deck is a digital presentation that outlines your business values and proposals in a more visually appealing format.
Not only should you include one of these in your business pitch, but you should also use it to demonstrate your knowledge about the market. You can use it to present specific points that wouldn't land through vocal delivery. This could include any statistical or technical research you've done on your industry or market potential.
Fill your pitch deck with relevant graphs and charts that display your expertise in the field, but don't overdo it. Use the power of visuals to decorate your presentation with colorful and engaging graphics that can spice up the tone and keep your audience entertained.
Tell a Story
One exemplary technique entrepreneurs use to stand out is adding a sense of wonder and imagination to their pitch. In other words, they introduce their ideas as a story.
You can use two types of stories to introduce your business pitch idea.
The Customer's Story
First, there's the customer's journey. Design a relatable scenario where a typical customer would need your product. This imaginary customer would be the protagonist of your story, and your service would solve their problems.
Try to add a human element to your story by emotionally emphasizing the conflict instead of focusing on the solution. If you use this format effectively, you'll be able to demonstrate an in-depth understanding of your target demographic.
Your Team's Story
Secondly, you can tell the story behind your business team. Here, your business founders can play the protagonist as they go through an inspirational journey involving a revolutionary idea, a set of obstacles, and a point of success.
This format can act as your origin story, as it narrates how your business came to be in a more engaging tone. Investors are more likely to be impressed if they know your personal story, how you started, and what roadblocks you had to overcome.
Highlight Your Mission and Values
Although investors will care about what you do and how you do it, they're particularly eager to hear about why you're doing it. Remember, there might be a dozen different entrepreneurs offering the same services that you do, but they could be coming up with unique goals. This is where you get to be creative and unique.
Let's say you've developed an AI application that helps users organize their tasks and set a functional daily routine. With this game-changing technology, you could talk about how you plan to change the landscape of self-improvement and human productivity.
Similarly, consider what happens when your business adopts endangered animals and creates shelters for them. You can add a touch of humanity to your project by outlining your moral vision of a safer and healthier environment for all wildlife.
The ideal strategy is to come up with a goal that's either revolutionary or noble. Highlighting what you stand for can persuade your audience to support your cause from the heart.
Show Them that You're in Demand
Of course, engagement isn't everything. Even a promising idea with potential for active sales and growth only sways some investors and customers. If they feel your business pitch idea won't attract customers, they'll pass it along. So, how can you prove your worth in the market? By marketing, of course.
Get to know your target audience and determine whether they'd be interested in your products. If you're working in a competitive industry, you should explain how you'll get people to notice you.
Without a promise of demand and traction, any investments you receive will be in vain. Use your research on industry trends and proven marketing tactics to assure your audience that you can become the next big thing on the block.
Don't be Too Ambitious
A study by Crunchbase shows how 48% of funding rounds managed to raise over $1M between 2018 and 2020. This might tempt you to set high funding requests, which could poison your pitch. The last thing you want to do is make your business look like another money-making scheme.
So, set some realistic expectations for how well your pitch will sell. When discussing your funding needs, start your requests with low and reasonable costs. Investors want to see how well you can operate on a small scale before they help you expand further.
Don't make them roll their eyes by declaring unrealistic goals in sales and revenue that don't seem plausible. It doesn't matter how much confidence you have in your idea; your audience will only have so much without solid data backing you up.
Interact as Much as You Can
Your presentation might not go as planned when all is said and done, regardless of how much you practice. Since investors expect you to be prepared for anything, they'll openly test your capabilities by asking questions during your pitch.
Don't mistake your audience's input for disruption. Take it as a sign of interest and curiosity and an opportunity to connect with your potential backers. Answer their questions vigilantly and confidently. Let them comment on your points, and don't leave any communication gap in your pitch.
Look at Ryan Robinson's email pitch template, where he makes room for feedback by providing his customers with additional resources.
Finish off with a CTA
How do you keep your investors just as captivated as they were initially? By giving them a reason to continue and telling them what to do next. A Call to Action (CTA) statement is short, catchy, and inviting. For example:
"Order your first apple pie and make your holiday ten times more delicious."
"Join our fitness program to see your body transform."
Closing statements like these indicate that your business pitch idea isn't just a dream but something you've already worked hard on. It also adds a sense of urgency for the investors, who feel compelled to explore your services immediately.
This personalized social media pitch encapsulates the power of a CTA with a clear closing statement that invites the client to register through the added link.
Conclusion
Putting yourself out there in front of industry experts can be tough, but if you stay prepared and plan ahead with the tips we've discussed, you'll raise funds for your project in no time.