One of the first and most important steps in the business planning process is doing the proper market research for your product or industry. This relevant data is necessary in order to develop effective marketing strategies and prepare for challenges you might have down the road. Here to tell us more about the importance of doing proper market research is George Deeb, Managing Partner of Red Rocket Ventures and author of three entrepreneurial handbooks with over 300 lessons for startups and business owners.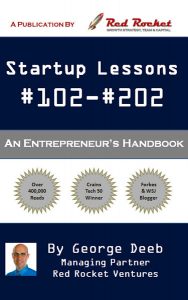 In today's show, George tackles lesson #160 which is all about knowing the difference between being passionate and being overzealous with your startup idea. Being overly infatuated with your idea has a lot of pitfalls. The love for your product or service can make you oblivious to its flaws and limitations, according to George. He recommends that entrepreneurs first try to tear down their business plan. Being critical of yourself can help you find weakness and holes in your plan that you might otherwise neglect.
Jim and George then moved on to lesson # 118 which is all about the proper ways to successfully conduct market research. Before you start any business, you have to know what you're up against. george believes that it's absolutely essential to market research as early on as you can. Through this research, these are the questions he tries to find answers to:
How big is the industry?
How fast is it growing?
Who are the big competitors?
How well capitalized are those competitors?
Where are the whitespace opportunities?
Jim and George also discussed lesson # 121 which fleshes out how to build and design an omni-channel business. An omni-channel business is a retail strategy that integrates the different methods of shopping available to consumers. You now need to put the customer at the center of all retail channels.
To hear more insight and advice from George, be sure to watch our full interview above.
---
The Atlanta Small Business Network, from start-up to success, we are your go-to resource for small business news, expert advice, information, and event coverage.
While you're here, don't forget to subscribe to our email newsletter for all the latest business news know-how from Atlanta Small Business Network.