Congratulations! You have reached the phase in your business development process where you are ready to start seeking out funds. In between your days of meetings with staff, marketing your business, and handling operations, you are researching business pitch competitions and venture capitalists to reach out to.
While there are a variety of ways to obtain funding for your business, pitch competitions have grown in popularity. This trend likely started with the arrival of Shark Tank, a show that allows individuals to present their business ideas to successful entrepreneurs with the hope of receiving an investment from them. The model of this show has begun to take place at accelerators and competitions all across the country.
So, you have found a venture capitalist you want to pitch to, or are planning to attend a pitch competition for funding. How can you create the best possible scenario to walk away with an investor partnership?
While a perfect business pitch does not exist, hearing from those who have successful experience in this practice can put you in a good position. So, here are five tips from experienced entrepreneurs and venture capitalists on creating exceptional pitches.
Keep it Short and Manageable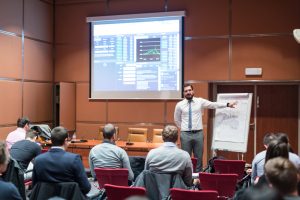 You may be tempted to create 60 slides that take over an hour to go through. Venture capitalist and chief evangelist of Canva, Guy Kawasaki warns against this. As a result of having to sit through long and unengaging pitches, he created a formula for covering all needed points while keeping everyone's attention. Kawasaki suggests the 10/20/30 rule. This rule stands for 10 PowerPoint slides, 20 minutes to present them, and 30-point font for text in each slide. This formula allows you to discuss a manageable number of concepts in under 30 minutes. The 30-point font makes the slides easy to read and forces you to use fewer words, so information is more easily digestible.
Quickly Capture the Attention of Your Audience
Much like a movie trailer or new song, if the media doesn't capture your attention in the first few seconds, you will mentally check out or move on. The same is true with a venture capitalist. While you may have an excellent idea, your job is to hook your audience immediately. Robert Herjavec, entrepreneur and Shark Tank investor, had this to say about the beginnings of an exceptional business pitch, "You have 90 seconds to make an impact in your pitch. Show your expertise and confidence."
Do Your Homework
Much like a job interview, it is crucial that you know the background of the potential investors you are pitching to. Showing these individuals that you understand their investment history and have planned out how you can provide value to them can increase your credibility. David Selverian, an investor at Bessemer, expressed the importance of researching investors, "[…] the homework will help you articulate why a specific investor is right for your business, ensuring that the individuals on both sides of the table have complementary skill sets and interests."
Create a Connection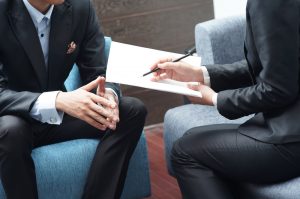 While pitching is serious business, it is necessary to remember that investors are human as well. Think of things that engage and connect with you and integrate them into your business pitch. A smile or a light-hearted and humorous comment can take away the tension and apprehension. If you are nervous about the pitch, see if you can connect with some of the investors ahead of time to create a familiarity that eases your nerves. Michael Greeley, a board member of the National Venture Capital Association who spoke to Forbes, advises entrepreneurs to schedule a breakfast with one or two investors before presenting in front of the entire team.
Think Like an Investor
Just as crucial as it is to connect with investors on a human level, it is just as vital to appeal to their logic and reasoning. Co-founder of Sun Microsystems and owner of Khosla Ventures, Vinod Khosla, advises entrepreneurs to "pitch the way VCs think." His slides and presentations guide entrepreneurs through creating an effective funding pitch by blending facts with compelling reasons. Along with utilizing Kawasaki's 10/20/30 rule, narrowing down a business pitch to three to five takeaways of reasons why venture capitalists should invest, can set your pitch presentation apart. Khosla also advises entrepreneurs to address investor concerns. Providing reasons to invest in your business and addressing their fears allows you to speak to their interests directly.
Final Thoughts
A venture capitalist will likely see 500 pitches in a year, and less than 10% of startups make it past the first meeting. In short, there is much competition for funds. However, there are ways to stand out from the rest. Detailed research, excellent preparation, and putting yourself in the shoes of these individuals can put you on the path to gaining funding.
---
The Atlanta Small Business Network, from start-up to success, we are your go-to resource for small business news, expert advice, information, and event coverage.
While you're here, don't forget to subscribe to our email newsletter for all the latest business news know-how from Atlanta Small Business Network.