[Previously aired 7/8/19]
If you are planning for retirement or hoping to take a step back from the day-to-day operations of your company, then having someone ready and willing to take your place is crucial for your company's continued success. Here to tell us about the importance of developing a succession plan early on in your business is Dr. Paul White, psychologist, business coach, and best-selling author of The 5 Languages of Appreciation in the Workplace.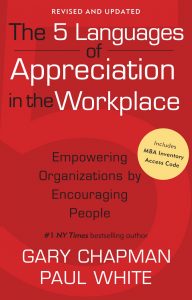 When asked why it is that so many business owners avoid the topic of succession planning Dr. White says that the reality is it's a very overwhelming topic. When done right, the process of getting together with members of your company or advisors to discuss the creation of a succession plan takes a lot of time and energy away from the business owner. And with so many small business owners with already overloaded agendas, the creation of a succession plan will continue to be procrastinated.
But when is a good time to start thinking about a succession plan and what are the initial steps that you would take? Dr. White says that the time to start thinking about a succession plan doesn't come until you think you are going to survive as a business, and the best first step to have is to build up an emergency cash reserve. In the event that something happens to a business owner having that 3-6 months worth of expenses can make a big difference, and it can buy businesses time no matter how far along they are in their succession planning. Dr. White says that a good friend taught him to always try and avoid a situation in which you are desperate because when we are desperate we tend to make bad decisions.
Dr. White goes on to say that some good next steps would be to write some thoughts down on paper and share your ideas with your business leaders or spouse. In the case of an unexpected event simply letting your business partners and managers know about your thoughts and ideas for a succession plan can be helpful in beginning to create one, even without the presence of a formal legal document. Dr. White also says that it is important to differentiate between ownership succession and management succession. Although the two might contain some overlap, remembering the need for an individual plan for each category can be extremely important for your business.
To hear more about succession planning check out the full interview above.
---
The Atlanta Small Business Network, from startup to success, we are your go-to resource for small business news, information, resources.

Follow us on Facebook here and stay up to date or catch-up on all our podcasts on demand.
While you're here, don't forget to subscribe to our email newsletter for all the latest business news know-how from Atlanta Small Business Network.
This has been a JBF Business Media production.