In entrepreneurship, few tales are as remarkable as Scrub Daddy's meteoric ascent from a simple smiley-faced sponge to a multi-million dollar sensation. This unexpected triumph is a potent reminder that serendipitous successes often harbor profound lessons. In 2023, the net worth of Scrub Daddy is $250 million. Meanwhile, the net worth of Aaron Krause, the inventor, is $70 million. Let's learn how he created a $250 million business with a sponge.
By delving into Scrub Daddy's inspiring journey, entrepreneurs and innovators can uncover invaluable insights illuminating the path to transformative achievement. From Shark Tank triumphs to calculated innovation, the article offers a comprehensive view of Scrub Daddy's rise.
Aaron Krause and the Unforeseen Origins of Scrub Daddy
Aaron Krause's journey to entrepreneurial stardom began with his academic pursuits and early experiences in car detailing. Armed with a bachelor's degree in psychology and a minor in marketing, Krause's insatiable curiosity and innovative spirit were evident even in his formative years. His venture into car detailing marked a brief success in Bala Cynwyd, setting the stage for his future creative endeavors.
Inventive Inclinations and Childhood Explorations
From a young age, Krause displayed a knack for invention. He fondly reminisced about spending countless hours in his room, tinkering, and crafting innovative solutions. This formative period laid the foundation for his later ventures, showcasing a persistent drive to solve problems and create something unique.
Krause's career trajectory significantly changed as he assumed the CEO role at an international manufacturing company. Despite paperwork and machinery maintenance responsibilities, Krause's inherent inventive spirit remained undeterred.
The Quest for Cleaner Hands: An Inventive Solution
Krause's desire for a more efficient hand-cleaning method marked the genesis of Scrub Daddy. Drawing on his extensive knowledge of urethane foam buffing pads, he envisioned a hand scrubber made of highly engineered polymer foam. This innovative concept was born out of necessity and a genuine desire to improve a common yet overlooked task.
Innovation Takes Shape: The Birth of Scrub Daddy
The transformation from concept to reality was a meticulous journey. Krause's dedication to engineering and design led to the patenting of his revolutionary product. Scrub Daddy emerged as a distinctive creation, combining functionality with a playful smiley face design—a hallmark of its innovative approach to an everyday problem.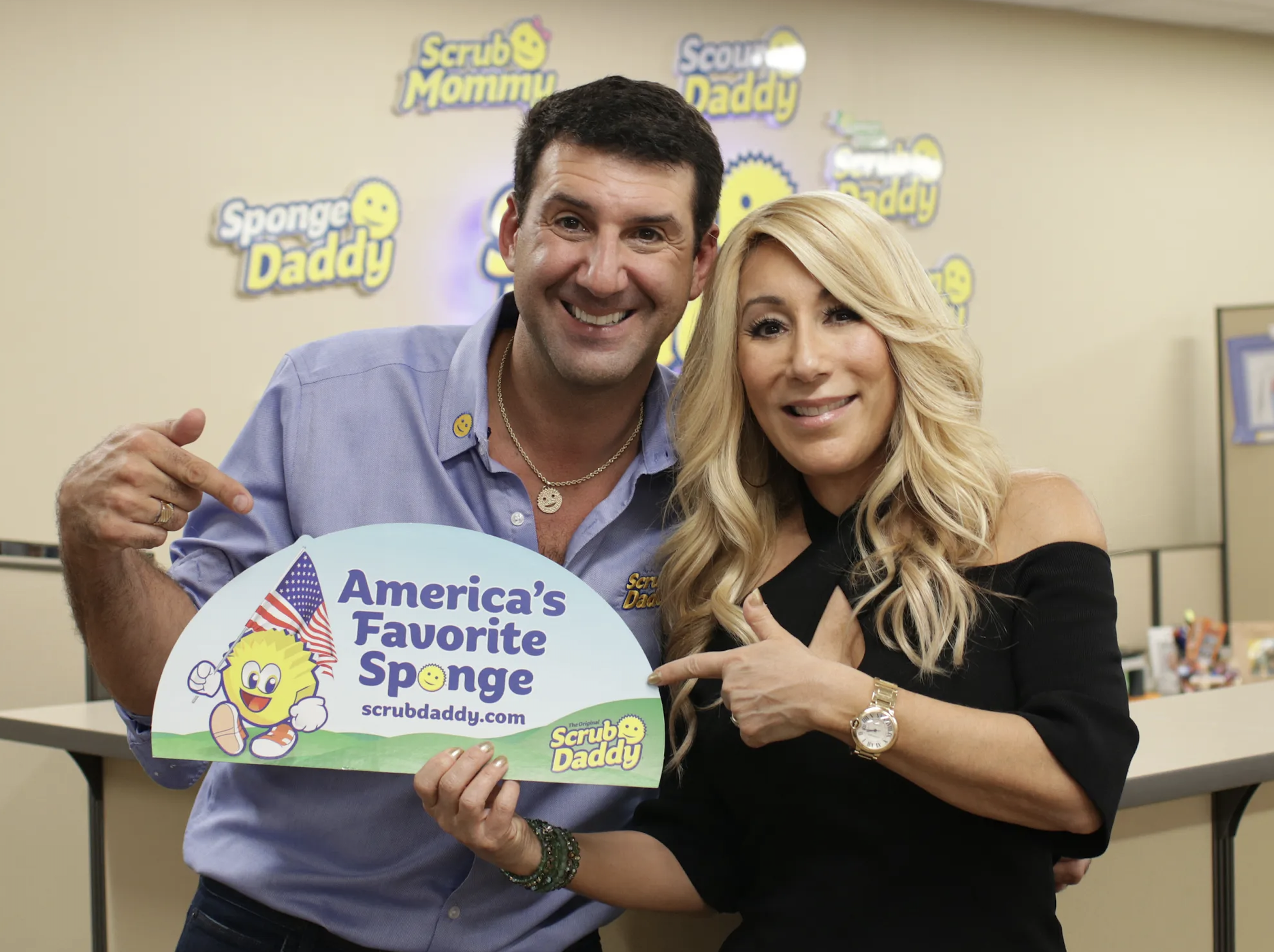 Shark Tank: A Catalyst for Innovation
The platform of Shark Tank provided Krause with the opportunity to showcase his invention on a global stage. Lori, one of the judges from Shark Tank, offered Aaron two hundred thousand dollars. The exposure validated his innovative concept and catapulted Scrub Daddy into the spotlight. The show was pivotal, demonstrating the power of combining innovation with effective presentation.
Beyond Scrub Daddy: Problem-Solving through Invention
Before Scrub Daddy's massive success, Krause had patented a double-sided buffing pad to address challenges in the manufacturing industry. This early venture showcased his inclination toward problem-solving through inventive solutions and laid the groundwork for his continued pursuit of innovation.
Through his journey, Krause discovered his true passion lay in problem-solving through innovation. Scrub Daddy's unexpected success and the challenges he overcame fueled his drive to create and innovate. Krause's story is a testament to the profound connection between entrepreneurship, innovation, and personal fulfillment.
What Inventors Can Learn from Scrub Daddy's Success?
The unprecedented journey of Scrub Daddy offers invaluable insights for aspiring inventors, entrepreneurs, and innovators. From its accidental triumph, several key lessons emerge that illuminate the path to entrepreneurial success.
Clever Marketing Strategies
Scrub Daddy's success underscores the critical role of effective marketing strategies, especially on TikTok. The product's iconic smiley face design captured the attention and resonated emotionally with consumers. Inventors can learn that creative branding can transform an ordinary product into a captivating experience. By crafting a compelling narrative and leveraging innovative marketing tactics, entrepreneurs can establish a strong brand identity that sets them apart in a competitive marketplace.
Addressing Customer Needs and Preferences
One of the cornerstones of Scrub Daddy's triumph is its unwavering commitment to addressing customer needs and preferences. Aaron Krause's initial struggle with dirty hands led to the creation of a product that catered to a common yet overlooked problem. Inventors should recognize the significance of identifying real-world pain points and crafting solutions that enhance everyday lives. By focusing on utility and practicality, innovators can cultivate a loyal customer base that values their offerings.
Creating a Two-Way Conversation
Scrub Daddy's success story is intrinsically linked to its customer engagement. The company's dedication to listening, learning, and responding to customer feedback established a strong feedback loop that fueled continuous improvement.
Inventors can glean the importance of open communication channels with consumers, enabling them to refine their products based on real-world experiences. Innovators can create products that resonate and evolve by involving customers in the development process.
Conclusion
Scrub Daddy's accidental success is a beacon of inspiration for inventors and entrepreneurs. By dissecting its triumph, aspiring innovators can uncover a roadmap to success that includes elements such as clever marketing strategies, attentive customer engagement, the value of feedback, and the importance of fostering creativity.
Aaron Krause's journey showcases that transformative ideas can emerge from everyday challenges, and through dedication, perseverance, and a willingness to learn, anyone can turn an innovative concept into a sensational entrepreneurial victory.