If you're an entrepreneur who has ever fallen on tough times, then you need to hear what our next guest has to say about overcoming hardship and reaching the pinnacles of success. On today's show, we welcome Michael J. Coles, successful entrepreneur, community leader, and philanthropist. In 1977, Michael co-founded the wildly popular Great American Cookie Company worth over $100 million today, and in 2007, ended his tenure as the CEO of Caribou Coffee.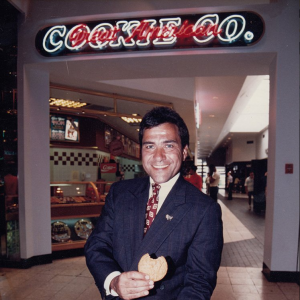 A strong advocate for education, Micheal is also the namesake for Kennesaw State University's Michael J. Coles College of Business. And he is here today to tell us about his new book Time to Get Tough: How Cookies, Coffee, and a Crash Led to Success in Business and Life.
Formally in the retail clothing business, Michael made the transition to cookies after two separate encounters with popular cookie ventures; one at the local mall, and one featured in a well-known magazine. He and his wife decided to take a gamble and opened up the first Great American Cookie location. Six weeks later, tragedy struck the Coles family as Michael was involved in a near fatal motorcycle accident. After barely escaping with his life, doctors told Michael that is was unlikely he'd ever walk un-aided ever again, but after several months of persevering through rehabilitation programs, Michael not only regained his strength but also found his passion for cross-country cycling.
After digging deep and facing this adversity, Michael knew that he could manage and grow his company no matter what happened. When the company was around six years old, Michael considered selling the company and moving in another direction, however, something told him to re-evaluate the business and take it to the next level. After an in-depth analysis, the entire company went through a total make-over with a brand new mindset. Michael explains, "What happened for me, was that I realized, this was the tip of the iceberg of what I could build, and do I have the ability to do it?"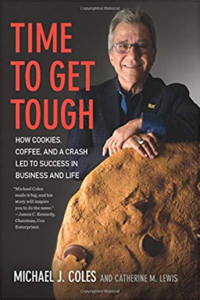 The company continued its success and by this time, had multiple offers for purchase. At this point, Michael had begun his bid for the U.S. Senate seat, and as election day drew near, the polls indicated that he would be victorious. So this seemed like the perfect opportunity to sell. Come November, Michael was not elected, however, that didn't slow him down.
He then took on a consulting project for Caribou Coffee and was shocked to see the brand religion that Caribou had built given its smaller size. During his tenure as CEO, Michael brought his expertise to the coffee brand and disrupted the company's competition.
To learn more about Michael J. Coles, you can purchase his new book Time to Get Tough: How Cookies, Coffee, and a Crash Led to Success in Business and Life right here today.
---
The Atlanta Small Business Network, from start-up to success, we are your go-to resource for small business news, information, resources.

Follow us on Facebook here and stay up to date or catch-up on all our podcasts on demand.
While you're here, don't forget to subscribe to our email newsletter for all the latest business news know-how from Atlanta Small Business Network.
This has been a JBF Business Media production.