It's been determined that nosebleeds can occur for a number of reasons. From sinus pressure – related issues, to health conditions, amongst other causes to name a few. While there's no good time to experience a nosebleed, the help of a new device may change the way we experience them. Today's guest is Anthony StCyr, the inventor of  "The Nose T", a patented device that is designed to stop nose bleeds from lasting more than a matter of seconds from the time they begin.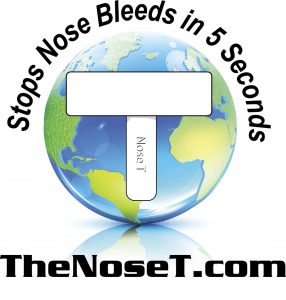 StCyr discovered this solution after constantly running into the issue of having nosebleeds during inconvenient times. The tipping point for him came after having experienced a nosebleed that lasted nearly 30 minutes. StCyr mentioned that the experience genuinely startled him as he was on blood thinners at the time of the accident. After doing research and running various experiments he discovered that the solution involves the upper gum area of the mouth, an area that contains arteries that are directly connected to blood vessels leading to the nose.
StCyr further explains his "patenting process" and addresses the mistakes he made early on that affected the way he went about his business. "When I first got my patent…my goal was to sell it" mentions StCyr in his interview. Upon that approach, he states that what that particular company was offering him was significantly less than what he'd imagine from the projected deal. His disappointment led him to expound on his efforts to keep his patent and attempt to take his product to new heights. As a result, he expresses his gratitude for making that decision.
To learn more about Tony StCyr and "The Nose T", be sure to watch our full interview above. 
---
The Atlanta Small Business Network, from startup to success, we are your go-to resource for small business news, information, resources.

Follow us on Facebook here and stay up to date or catch-up on all our podcasts on demand.
While you're here, don't forget to subscribe to our email newsletter for all the latest business news know-how from Atlanta Small Business Network.
This has been a JBF Business Media production.