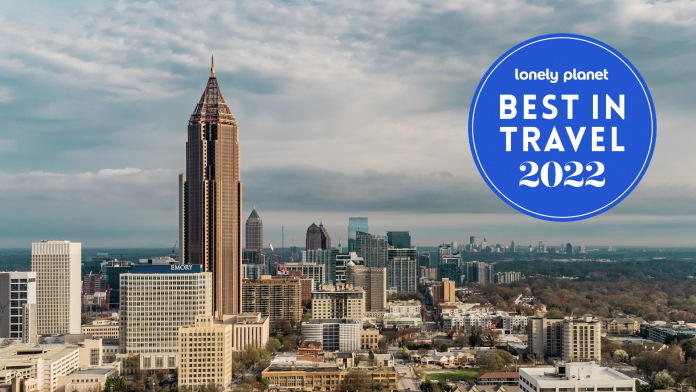 Atlanta was again included in Lonely Planet's list of the Best in Travel for 2022, a renowned travel guide publication that has been writing about vacation destinations for years. Each year, Lonely Planet's staff, authors, bloggers, partners, and others submit nominations for the list. A panel of experts then reduces the choices to just ten nations, regions, and cities.
Atlanta was awarded the number four spot on the Top 10 Cities to Travel to in 2022. Right after Freiburg, Germany, Taipei, Taiwan, and Auckland, New Zealand. It's the only U.S. city to crack the list. To honor this achievement, our staff at ASBN compiled a list of their favorite places to visit in the metro Atlanta area.
Where to Eat & Drink
249 Ivan Allen Jr Blvd NW, Atlanta, GA 30313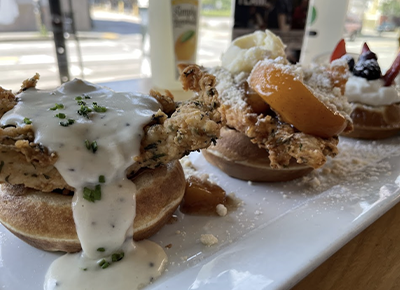 Atlanta Breakfast Club was started by co-owners Osiris Ballard and Executive Chef Anthony Sanders of Good Food & Company. Their first restaurant debuted in Downtown Atlanta in 2016.
On the first floor, you'll find their southern-style breakfast menu featuring home-cooked classics like cobbler, fried chicken and waffles, and biscuits with gravy. ABC also offers a secret menu available by request only.
535 10th St NW, Atlanta, GA 30318

U.S. veteran and owner of Sublime Doughnuts, Kamal Grant, served as a baker on the USS John Young. Sublime first opened its doors in 2008. The first gourmet donut shop he opened was in Home Park, and now there are other locations in North Druid Hills and even Bangkok, Thailand.
Try out fan favorites like the A-town cream, the Yin Tang twist, and the Orange Dream Star.
1530 Dekalb Ave NE, Atlanta, GA 30307

You won't find an abundance of fine dining restaurants in Atlanta, but Lazy Betty is one of them. The brainchild of chefs and business partners Ron Hsu and Aaron Phillips, Lazy Betty has received numerous awards since it opened in 2019, including a nomination for Best New Restaurant in the 2020 James Beard Awards. Diners can choose between a 6 or 8-course tasting menu with vegetarian options available upon request.
494 Plasters Ave NE, Atlanta, GA 30324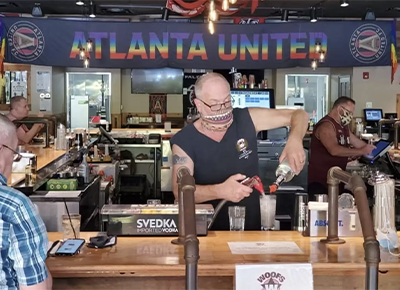 Since 2002, Woofs Sports Bar has been leading the way in offering tasty pub-style food and drinks to Atlanta's LGBTQ+ community. This laid-back sports bar runs daily specials, hosts events, and gives back to local non-profit organizations that support the LGBTQ+ community and sporting groups.
1361 Clairmont Rd, Decatur, GA 30033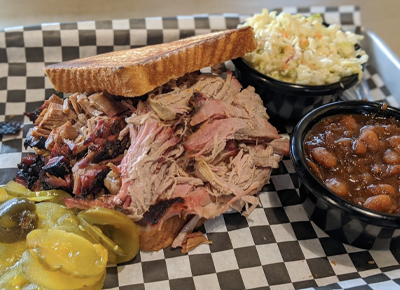 Although Community Q's menu has typical barbecue items like pulled pork, beef brisket, ribs, potato salad, and Brunswick stew, what sets the restaurant apart is owner David Roberts' background in fine dining. You'll be hard pressed to find another BBQ joint that serves smoked sweet potatoes with kale, a 'redneck chicken salad' with smoked chicken, grapes, pecans, and dill, or blueberry bread pudding desserts.
128 E Andrews Dr NW, Atlanta, GA 30305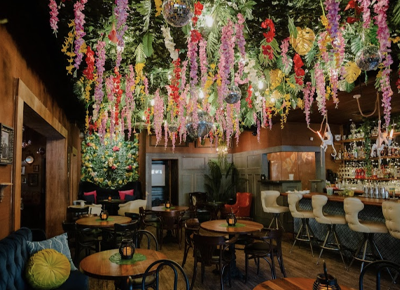 The Blind Pig Parlour Bar is a modern-day speakeasy in the city with vintage Victorian decor, and a menu of unique cocktails like the Scooby Snack made with rum, pineapple juice, coconut crème, and a Mexican coke floater. This summer, the Blind Pig traded its leather armchairs for palm trees and launched The Playa Pig, an immersive pop-up designed to transport visitors to a magical oasis.
Where to Shop
1250 Caroline St NE Suite C120, Atlanta, GA 30307

the beehive is Atlanta's first community-based collective boutique where independent designers and entrepreneurs can offer their handmade products like jewelry, apparel, houseware, accessories, and children's items. The organization also holds summer craft camps and modern workshops where local residents can learn new skills and hone their crafts.
400 Avalon Blvd, Alpharetta, GA 30009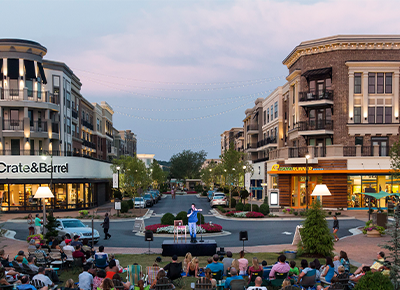 Avalon is an 86-acre mixed-use community in the middle of Alpharetta, about 30 minutes north of Atlanta. This community boasts dozens of dining, entertainment, professional businesses, and luxury apartments available to rent. There are over 70 businesses in the community, including spas, boutiques, designer brands, salons, and even a Tesla store.
675 Ponce De Leon Ave NE, Atlanta, GA 30308

Ponce City Market is another mixed-use space with national and local retailers, restaurants, a fine-dining food hall, shops and offices, and residential apartments. Shop local at establishments like The Victorian Atlanta, Ponce Denim Company, and Archer Paper Goods to name a few.
8109 Mall Pkwy, Stonecrest, GA 30038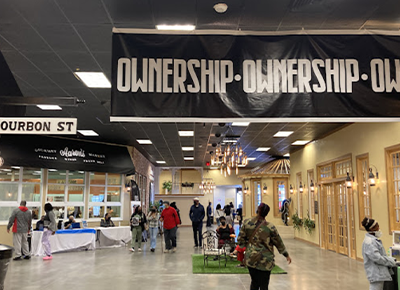 Located in Stonecrest, Georgia, the 125,000-square-foot New Black Wall Street Market opened its doors last November with the hope of creating a shared retail space for Atlanta's thriving black business community.
The website lists 45 stores doing business in the market, including boutiques, local jewelers, bookstores, and other professional services, all created with black consumers in mind.
Where to Go & What to Do
Atlanta BeltLine Eastside Trail, Atlanta, GA 30312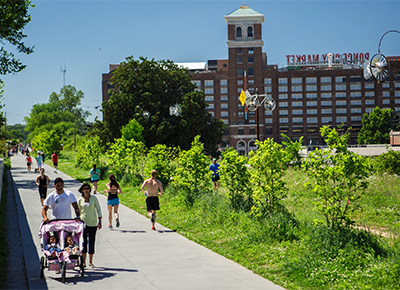 What was once a network of abandoned rail lines is now a loop of paved trails that will eventually connect around the city. The project won't be fully completed until 2030, but the popular Eastside and Westside trails have been open to pedestrians for a while now.
Walking or biking along the BeltLine is a terrific way to spend a day in Atlanta. Along the trail are numerous public artworks like sculptures and murals. There are also places to stop along the way for a bite to eat, a drink, or maybe a souvenir.
248 Oakland Ave SE, Atlanta, GA 30312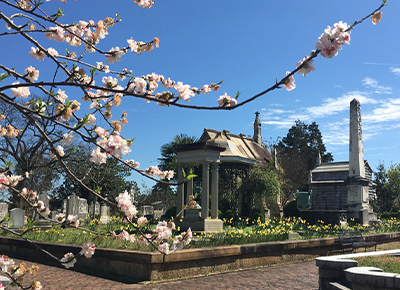 Many of the most notable Atlanta residents, including Maynard Jackson, Margaret Mitchell, and Kenny Rogers, have been laid to rest in Oakland Cemetery, the city's oldest public park. Oakland Cemetery is open from sunrise to sundown daily and is free to visit!
1345 Piedmont Ave NE, Atlanta, GA 30309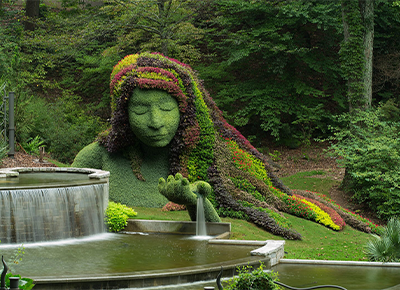 In Midtown Atlanta, close to Piedmont Park, sits the 30-acre Atlanta Botanical Garden, an ideal location for organizing an event or gathering surrounded by artistic and vibrant grounds. As a non-profit, the garden's purpose is to build and preserve plant collections for exhibition, teaching, research, conservation, and enjoyment. The vast campus also has a unique canopy walk in its tranquil Storza Woods, an award-winning children's garden, an innovative new edible garden, and more.
602 North Highland Ave NE, Atlanta, GA 30307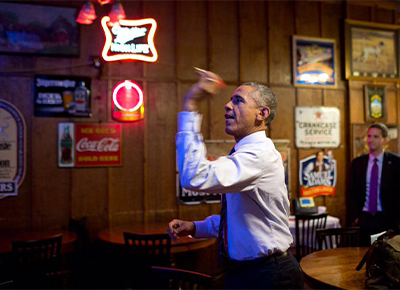 Manuel's Tavern is an Atlanta institution dating back to 1956 when Manuel Maloof purchased Harry's Delicatessen and transformed it into a pub inspired by the taverns he visited while stationed in Europe during World War II. He and his brother Robert gradually transformed Manuel's Tavern into a significant part of Atlanta's history. Manuel was actively involved in politics his entire life, earning him the prestigious and exclusive title of "Godfather" of Georgia Democratic politics. Today, his son Brian runs this iconic Poncey–Highland staple.
1305 S River Industrial Blvd SE, Atlanta, GA 30315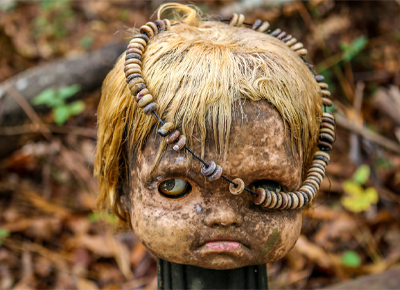 Constitution Lakes Park is a thriving wetland and a wildlife preserve located n a defunct brick factory from the 19th century. But it is also home to Doll's Head Trail, a quick hike developed for and dedicated to found art, that cuts right through the park. The idea for the Doll's Head Trail originated from a local carpenter named Joel Slaton, who saw an opportunity to make art from abandoned doll parts and other debris around the area.
630 Travis St NW, Atlanta, GA 30318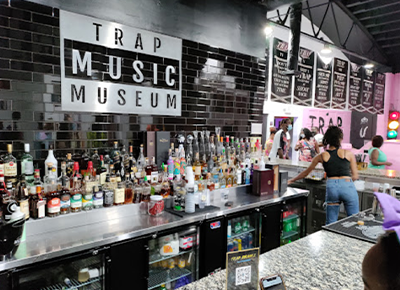 In the center of West Atlanta is one of the city's newest art gallery and escape rooms, the Trap Music Museum. Founded by rapper T.I., the museum has a variety of one-of-a-kind sculptures in celebration of some of hip-hop's most famous and wealthy trap music stars.
It is not surprising that the museum has been enormously successful in the Westside community and beyond. People from near and far have traveled to experience and learn about trap culture.
Atlanta has recently emerged as one of the top American cities for street art. Murals painted by street artists are prominently shown all over the city, in places like the Krog Street Tunnel, along the BeltLine.
Here's a list of self-guided tours in different Atlanta neighborhoods.
8930 Canyon Rd, Lumpkin, GA 31815
Everyone knows about the Grand Canyon in Arizona, but many Georgians don't know about the "Little Grand Canyon" in their state, Providence Canyon. It may be smaller than its more well-known counterpart, but the valleys and ridges are enormous on all other counts.
The canyon is located south of Columbus, roughly seven miles west of Lumpkin, and about 150 miles southwest of Atlanta. It is located in a 1,103-acre former agriculture site with 16 canyons to explore.
449 Auburn Ave NE, Atlanta, GA 30312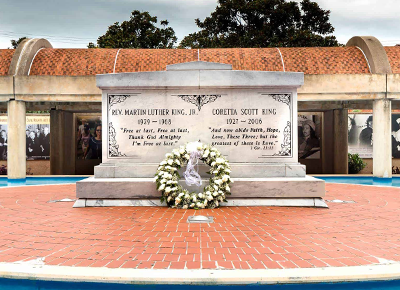 The Martin Luther King Jr. Center for Nonviolent Social Change, popularly known as The King Center, has been a non-governmental, non-profit organization and cultural landmark in Atlanta for more than 25 years. Coretta Scott King established the center in 1968.
Upon arrival, visitors enter Freedom Hall via a corridor, where the Grand Foyer features artwork from Georgia and Africa, and the vast theater/auditorium hosts special events. On the second level, displays are dedicated to Dr. and Mrs. King, Mahatma Gandhi, and Rosa Parks. The King Center also has a bookstore/gift shop and a resource center on the ground floor.
100 Centennial Olympic Park Dr NW, Atlanta, GA 30313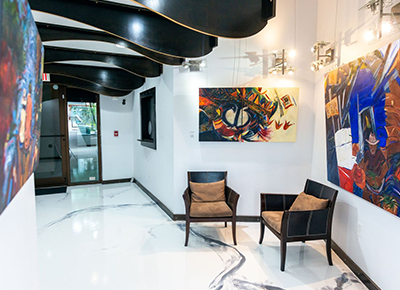 ZuCot Gallery is the largest African-American-owned fine art gallery in the Southeast and can be found in Atlanta's famed Castleberry Hill neighborhood.
In addition to being a fine arts gallery, ZuCot Gallery has earned a reputation as a hub for like-minded people to congregate, network, and form connections through the arts. The gallery hosts a wide range of guests and events, from Congressmen, Senators, to Fortune 500 firms and wedding celebrations.
---
The Atlanta Small Business Network, from start-up to success, we are your go-to resource for small business news, expert advice, information, and event coverage.
While you're here, don't forget to subscribe to our email newsletter for all the latest business news know-how from Atlanta Small Business Network.