In 2016, the U.S. Department of Transportation awarded the City of Atlanta a $10 million Transportation Investment Generating Economic Recovery grant (TIGER grant). The sole purpose of the money was to revitalize MLK Drive in Metro Atlanta. Mayor Kasim Reed, Invest Atlanta, and MARTA have partnered to put the money to sustainable use for small business owners around the city. The plan is to develop the iVillage at MLK; a development created out of repurposed shipping containers that will be used to provide affordable and transit-accessible space for entrepreneurs. The proposed 6,500 square feet of commercial space is groundbreaking for the city, but it is not the first in existence. Las Vegas, London, Copenhagen, and San Francisco have all used shipping containers to produce areas for retail or living space. What does this type of development in the Metro Atlanta area mean for entrepreneurs and city commerce?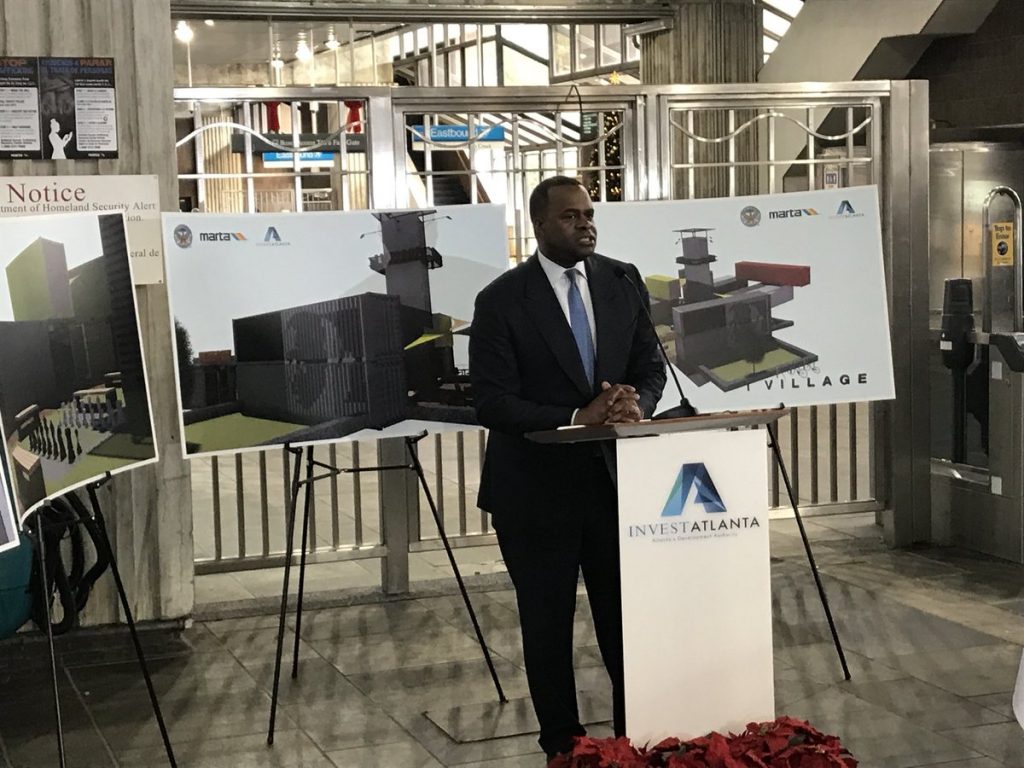 The Emergence of a Southern Silicon Valley?
It is no secret that San Francisco and even London are places where inventive ideas and successful start-ups can thrive. When looking into each area, the list of vibrant tech startups and entrepreneurs seems endless. However, for these places to cultivate a wide range of start-up talent, they have to include resources that help entrepreneurs move forward. San Francisco has a large number of research and startup labs near universities like UC Berkeley that have created an environment of entrepreneurial innovation. With places like the Atlanta Tech Village and FlatIron City, the iVillage can be another area where tech entrepreneurs outside of the midtown and the general downtown area can be successful.
Georgia State University and Clark Atlanta University Are Down the Road
When universities and innovation centers are within proximity it gives budding entrepreneurs the opportunity to put what they learned in class to practical use. Georgia Tech is near the AT&T Foundry, Tech Square Labs, and another proposed version of Tech Square located east of the downtown connector. While Georgia State University and Clark Atlanta may have academic areas for entrepreneurship and innovation and FlatIron City, students do not have an area to network with other entrepreneurs or the space to work on ideas. The iVillage will be located approximately ten minutes away from both campuses. This taps into the entrepreneurial intentions and skill of another hub of innovative university students.
Another Area of Metro Atlanta can Thrive
Much of the discussion concerning commerce and innovative development has centered around areas like Old Fourth Ward, Midtown, and Edgewood. However, there has been a lag in addressing struggling areas that are located a bit further than downtown going toward the West End. This project plans to change all of that. Along with the iVillage, there is a plan to create new sidewalks, multi-use rail, street lighting, and public art displays. An area that many feel is worthy of an upgrade. These initiatives can bring more foot traffic to MLK Drive for other businesses that already reside there, and can even inspire others to take up a residence in the area. In addition to all of this, Mayor Reed will also contribute $1 million in business grants to enterprises located along this corridor.
Atlanta is Willing to Try Something New
Many times, to be the best, you have to follow in the footsteps of those who have done the work to become excellent centers of innovation. All the cities who have decided to include progressive projects like this one in their redevelopment efforts are known for their innovation and diverse approaches to commerce. It is a good move for Atlanta to position themselves to do the same. It shows a willingness to take a risk and try something new for the good of the city. This move can attract additional business to the Metro Atlanta area and may encourage residents of the city to embark on entrepreneurship who might not have thought about it before a development like this.
Creating More Entrepreneurs
As stated above, a move like this could cause individuals who were on the fence about starting a business to make a move. With it being MARTA accessible, it also creates a way for people who may not have access to vehicles to gain access to space where they can work on their entrepreneurial ideas and network with others. The three-way partnership between MARTA, the City of Atlanta, and Invest Atlanta sets up a belief that the city is taking the time to invest in the people of the area which sends a message that small business development is important to those in leadership.
If this project is appropriately marketed to the people of Atlanta, the iVillage can have far-reaching effects that help students, residents in the area, and those living further in the West End of downtown to become entrepreneurs and bring additional commerce to the city. Time will tell of its actual impact.
Read more Atlanta Small Business News