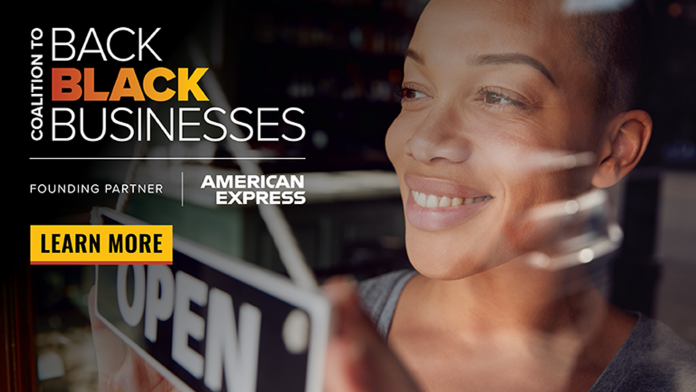 Small businesses and startups in the U.S. have struggled to survive since the pandemic hit them hard. Many black-owned business owners and entrepreneurs have reported facing several challenges in obtaining loans and funds to run their businesses. They fear their business permanently shutting down and predict decreasing revenues in the future due to COVID-19. 
In this regard, the Coalition to Back Black Businesses (CBBB) is a great initiative and a collective effort of American Express and the U.S. Chamber of Commerce Foundation to help black-owned small businesses recover from the financial crisis the pandemic has caused. The effort is to bring meaningful change in the lives of the black business community by providing relief and supporting their success. 
If you belong to the black business community and are looking for mentorship and funding opportunities, learn how you can apply for Coalition to Back Black Businesses grant program. 
How Does CBBB help Black Entrepreneurs Build a Long-term Future?
American Express and the U.S. Chamber of Commerce Foundation's effort to support black community small businesses with the $5,000 grants is just the beginning. Primarily, the CBBB grant program comprises three different phases to support the long-term resilience and success of the black small business community. 
Each grantee will get access to a mentorship program with Ureeka to aid in the expansion and growth of their firm through direction and guidance from mentors with expertise in their particular fields or industries. 
American Express and the U.S. Chamber of Commerce Foundation will award the most promising grantees with competitive $25,000 enhancement grants each summer after the $5,000 grants have been given out. Four percent of grant recipients in each cohort will obtain these funds to aid in the expansion of their businesses. 
CBBB's website will feature a variety of resources for Black-owned small businesses. It will build a solid library of programs and instructional materials to aid the Black small business community's recovery and growth by cooperating with our wide network of partners. 
Coalition to Back Black Businesses Grant Program – An Overview
According to the U.S. Chamber of Commerce Foundation and American Express, Coalition to Back Black Businesses is taking applications for 2022-23 grant programs. It will offer $5,000 grants to approximately 272 black-owned startups and small businesses to support their long-term growth and current financial needs. 
As said above, the multi-year initiative is to support black communities and business owners in their hard times. The grant programs aim to strengthen small businesses as they play an important part in sustaining their communities. 
The following organizations are part of a coalition to provide more than $14 million in resources, training, and grants to help or empower black-owned distressed business communities struggling with the economic crisis. 
American Express

 

Optimum

 

Cummins

 

Stanley Black and Decker

 

Shopify

 

National Business League

 

The National Black Chamber of Commerce

 

Walker's Legacy

 

U.S. Black Chambers, Inc.

 

The U.S. Chamber of Commerce Foundation

 
From 2020 to 2023, the Coalition will provide $5000 grants to black entrepreneurs, followed by training and mentorship. The eligible business owners and entrepreneurs can apply for the CBBB grant online by September 6. If selected, they will get $25000 enhancement grants in the summer.  
The grants attempt to provide much-needed assistance and support to the black business community to overcome the economic crisis.  
Eligibility Criteria for Coalition to Back Black Businesses Grant Program
To be an eligible candidate to apply for the Coalition to Back Black Businesses, you must be a black business owner or have at least 51 percent of business ownership. Your business needs 3 to 20 workers as independent contractors and part or full-time employees.  
Your business must not be a franchise chain with over 25 corporate-owned outlets or 250 outlets working across the country. The business location must be in an economically vulnerable or financially-deprived community.  
CBBB's affiliates consider Black-owned businesses that have incurred financial hardship due to the pandemic a strong candidate for the grant. However, several sectors and business models are ineligible for grants, including: 
Any form of a non-profit organization, public administration, political group, or government agency

 

Gas stations or establishments housed within a gas station's grounds

 

Businesses involved in illicit and illegal activities

 

Shopping property management enterprises

 

Direct sellers

 

Any company whose primary activity is the production, promotion, or sale of diet pills, marijuana, gambling, tobacco (including tobacco products like e-cigarettes), weapons, or firearms

 

Private clubs and companies that set membership limits for factors other than capacity

 

Businesses are primarily involved in educating, counseling, and instructing religious beliefs in nonreligious or religious contexts.

 

Businesses owned by U.S. Chamber of Commerce Foundation employees, directors, and officers, National Partners, American Express, Coalition funders, affiliated organizations, and each member's immediate family (parents, children, spouse, and siblings) or people living in their home (whether related or not)

 

Businesses that generate more than a de minimis amount of gross revenue or profits either directly or indirectly from the sale of goods or services, or the display of any sexually explicit images or displays

 

Businesses enlisted in the USA Department of the Treasury's Sanctions

 
How Can You Apply for Coalition to Back Black Businesses Grant Program?
Business owners who want to qualify must show their interest on CBBB's website between September 14 and September 22, 2021, before applying. 
A waitlist of over 400 business owners that submit applications will be randomly chosen as finalists. The number of grants may vary slightly based on yearly funding. 
The information Black-owned businesses need to submit to express interest will include the company's name, contact number, email address, industry, and business zip code. CBBB affiliates will also ask if the business is operated by women and associated with the four national partners. Business owners also need to explain how the pandemic has impacted it.  
Keep in mind that if you submit your CBBB application before September 22, 2022 (11:59 PM EDT), the time will not affect your chances of being selected as a grantee. However, CBBB will remove the collection form after that. 
Suppose your business is chosen as a finalist. In that case, you will need to fill out an application that will take 15 to 20 minutes to finish and will ask for your Employee Identification Number (EIN), W-9 form, as well as other supporting documents and basic information. After being informed that you're a finalist, you have 7 days to complete the finalist application. 
How Many Grants Can You Get?
The Coalition to Back Black Businesses distributes $5000 grants each fall. While these grants or funds are unrestricted, business owners must apply them to business expenses. As a grantee, you can compete for enhancement grants worth $25000 following each award round. However, it has additional criteria.  
What Does CBBB's Selection Process Include?
Each Black-owned business that shows interest will receive a computer-generated random number after September 22, 2021. CBBB will list it in ascending order. Within two days following the deadline, the Coalition will choose over 400 Black business owners as finalists and contact them.  
(If any of the first finalists are ineligible, more candidates may be selected for the waitlist and promoted to finalist; they would be informed of their finalist status within three extra weeks.) 
The longer application (reviewed for eligibility and grant completion) will have one week for finalist and waitlist applicants to complete. Women-owned firms will get special consideration and account for at least 25 percent of the grants paid out. 
Within two weeks of finishing the finalist application, each finalist who submits a complete application and complies with all qualifying requirements will be informed of the grant award decisions. Any finalists that don't get notified will be promptly replaced by a completed application from a qualified candidate. 
When Will You Get the CBBBA Grant?
After registering for the Ureeka Platform as a finalist and attending the Ureeka Orientation, which is slated for the second to the third week of October, you will get $5,000 grants within four weeks.  
You will receive instructions on executing your grant payment after four weeks in the Ureeka program. Remember that the deadline for clearing all payments is November 25. 
What's More?
Black-owned businesses can't use CBBB grants for lobbying and political purposes. Other than this, the grant program is flexible and has no restrictions. More than 60 percent of grantees use these funds for marketing and advertising their small businesses.  
Other grantees use the money to cover payroll, pay monthly utilities, expand inventory, pay rent, repay debt, and purchase personal protective equipment. 
Summing Up
The Coalition to Back Black Businesses is an excellent multiyear grant offering and training effort to aid Black-owned small businesses as they recover from the COVID-19 pandemic and forge ahead. The programs provide grants to eligible Black-owned small companies through 2023 under the project launched in the fall of 2020.  
Thus, the article includes all the relevant details about the Coalition to Back Black Businesses Grant Program to help you apply and become a successful candidate. 
---
The Atlanta Small Business Network, from start-up to success, we are your go-to resource for small business news, expert advice, information, and event coverage.
While you're here, don't forget to subscribe to our email newsletter for all the latest business news know-how from Atlanta Small Business Network.