Recently, ASBN was on-location at the Small Business Series: Atlanta, an annual event hosted by the U.S. Chamber of Commerce that promotes opportunities for entrepreneurs to learn new tools, and network with fellow business owners. We had the chance to catch up with Sara Irvani, CEO of Okabashi Brands, and discussed the sustainable shoe manufacturing business her grandfather and father founded in Georgia almost 40 years ago.
Okabashi Brands has been a family owned and operated business since its founding in 1984, a legacy which Sara upholds as the CEO of the company and third generation shoemaker. Sara says the company works hard to provide sustainable and comfortable shoes to its customers, as well as remain among the 1% of shoes that are still being manufactured within the United States. Okabashi shoes are 100% recyclable and made from 45% soy, many of them being certified bio-based by the U.S. Department of Agriculture. Additionally, the company invites customers to send their old shoes back to them to get a 15% discount off their next pair of shoes and in order to stop the shoes from ending up in landfills and waterways.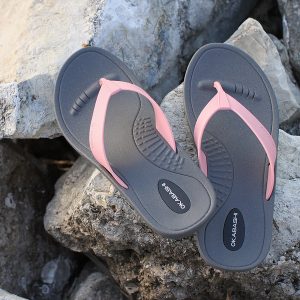 Okabashi is currently partnered with a large range of companies that help them to sell their brand, including CVS, Walgreens, Target, and Bloomingdale. And Sara is proud to say that every single shoe that the company sells is made right in their factory in Buford, Georgia.
Additionally, as a keynote speaker at the U.S. Chamber of Commerce's Small Business Series in Atlanta, Sara tells us about some of the highlights of her presentation. She says that no matter what kind of business you have, whether you are making shoes or working as a service provider, many small businesses face similar challenges and opportunities. But the important thing is to have a vision for your business and to go after it, and make sure that you have a solid group of mentors that you know you can rely on.
To hear more from Sara watch the full interview above or check out her website at www.okabashi.com.
---
The Atlanta Small Business Network, from startup to success, we are your go-to resource for small business news, information, resources.

Follow us on Facebook here and stay up to date or catch-up on all our podcasts on demand.
While you're here, don't forget to subscribe to our email newsletter for all the latest business news know-how from Atlanta Small Business Network.
This has been a JBF Business Media production.