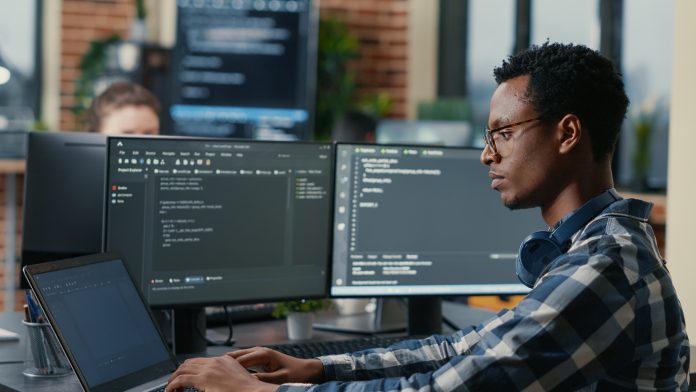 Cybersecurity is not a new issue for businesses, and its importance has only increased alongside the trending popularity of utilizing cloud-based technologies.
What does seem like a recent shift is a growing focus on cybersecurity for small and mid-sized businesses. It's true that news about hacks and ransomware attacks typically focuses on larger companies and corporations – organizations with huge at-risk data pools.
But the risk to smaller businesses is just as significant, perhaps not in scale, but in importance – not only for business owners but the U.S. economy as a whole. Over 90% of data breaches during the first quarter of 2022 resulted from cyber-attacks, so no matter the size or scale of your operation, the issue deserves attention.
Cybersecurity Threats Keep Coming
Ever since companies began storing and hosting information online, cybercriminals have been working to steal that data. Phishing, ransomware attacks, internal hacks, and more are common buzzwords across industries worldwide. And criminals are always busy developing new and improved ways to access and steal information they can use for nefarious purposes.
An entire industry of cybersecurity firms and insurance policies has been born as a result. What's notable is the increase and success of such firms, as well as skyrocketing policy premiums for companies that wish to purchase cyber insurance. Such premiums are steadily increasing at a rate of between 30-50% year-over-year and are likely to increase by more than 150% overall.
Why the sudden rush to profit from cybersecurity products? Industry experts believe it could relate directly to increased cyber-attacks on smaller businesses.
There are around 32 million small businesses in the U.S., with a combined contribution to the GDP of nearly 50%. That's a significant, untapped source of data for cybercriminals.
The issue for industry analysts is that private companies, and smaller businesses, are much less likely to report cyber-attacks. This makes estimating the actual number of businesses that have been affected hard, if not impossible.
It's Happening in Your Neighborhood
SolarWinds, a small software company, was penetrated by Russian hackers after a routine update in 2020. The attackers were able to infect the supplier's software with malware, which in turn put 18,000 private businesses and government agencies at risk.
In 2021, Microsoft Exchange had its on-site servers hacked by a group called Hafnium, which the Chinese government-backed. It's thought the group was mining data to gain insights into American consumers.
Estimates are that 350,000 servers were hacked, and the attackers automatically created undetected "backdoors" after discovering they were caught. As a result, around 200 additional ransomware attacks occurred in July 2021.
Attacks like these, which affect companies with smaller-sized data caches, are becoming increasingly frequent. And criminals are using new attack methods like targeting a company's software supply chain.
Companies in the healthcare sector are at the highest risk, but even small mom-and-pop businesses are vulnerable. The number of firms experiencing similar assaults is likely to triple between 2021 and 2025.
Small Businesses – A Growing Target
As security measures are created to prevent these types of attacks improve, cyber criminals may start to target smaller businesses, which are less likely to have deep pockets. These criminals may be gambling on the likelihood that smaller enterprises are slacking in building a well-rounded security protocol.
For this reason, small businesses need to take extra caution moving forward to safeguard their information from cyberattacks. That means potentially spending larger dollar amounts on insurance premiums.
In addition, as cybersecurity incidents have increased, many insurance companies have added minimum security standards that must be met in order to qualify for coverage. The fact that up to one-third of businesses are denied insurance coverage could signify the lack of current security standards.
How to Increase Cybersecurity for Your Business
Aside from adding the services of a cybersecurity firm to your operating expenses and investing in the right kind of insurance, there are common sense steps businesses can take to greatly decrease their chances of becoming a victim of a cyber-attack.
And while nothing on this list guarantees complete protection, the combination of a few standard procedures will create a culture of security that becomes second nature.
Train employees on security procedures and potential cyber threats.

Install firewalls for internet connections.

Set security standards for mobile device users.

Backup data multiple times.

Secure Wi-Fi networks from unauthorized use.

Reevaluate financial systems and establish best practices for transactions.

Limit access to computers, data, and networks.

Use encrypted passwords and multi-factor authentication.

Run frequent security checks and assessments.
In addition to these standard security measures, the Federal Communications Commission (FCC) provides resources for businesses wanting to address cybersecurity concerns, including a cybersecurity tip sheet and the Small Biz Cyber Planner 2.0 to help businesses create their own customized cybersecurity plans.
Additional resources are available on the FCC's website.
Conclusion  
As technology advances and more businesses look to digital resources for their needs, cyberattacks will continue to be an issue. And cybercriminals are likely working as fast as possible to create new and innovative ways to threaten businesses through cybercrimes.
Check the safety of your security plan, recognize where safeguards are lacking, and implement changes as soon as possible. Doing so protects your bottom line, your employees, and your customers – as well as the solvency of your business.
---
The Atlanta Small Business Network, from start-up to success, we are your go-to resource for small business news, expert advice, information, and event coverage.
While you're here, don't forget to subscribe to our email newsletter for all the latest business news know-how from Atlanta Small Business Network.