Here to discuss the importance of educating, promoting, and uniting Georgia's technology community is Larry Williams. Larry is the President and CEO of the Technology Association of Georgia or TAG for short, one of Georgia's largest advocates for business development throughout the state.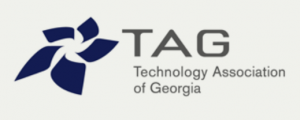 As the largest statewide technology association in the country, TAG is all about bringing the community together. With 35,000 members and counting, TAG encompasses many different technology sectors including fintech, cybersecurity, and internet of things. Larry explains, "We think it's really important to pull together the broader community as well. So, what's going on in Pew research, and how does that commercialize? And really think about that next generation of ingenuity, and the next great ideas that are going to lead to those next great businesses."
Technological innovation has always been a part of Atlanta. From its days as a logistics hub, the city has always been at the forefront of industry growth. However, in the last 10 or so years, Atlanta has really come into its own as a nationally recognized technology center. Larry explains that it's part of our southern identity to be understated. We don't brag about ourselves. "I describe Georgia as where technology meets the real world", says Larry. The real strides in technology are not always shiny new gadgets, but we have more companies driving revenue using technology than anywhere else. We're a top five technology state, but we didn't get there by accident.
The businesses that become members of TAG use the platform to get a common commitment with their peers and to keep up with what the trends are. There are a lot of avenues for members to get involved and engage with like-minded individuals.
---
The Atlanta Small Business Network, from start-up to success, we are your go-to resource for small business news, information, resources.

Follow us on Facebook here and stay up to date or catch-up on all our podcasts on demand.
While you're here, don't forget to subscribe to our email newsletter for all the latest business news know-how from Atlanta Small Business Network.
This has been a JBF Business Media production.