COVID-19 is affecting businesses on many fronts. Some have taken steps to move online during the temporary shut-down, while others are open, albeit with new operating procedures in place. 
For both groups, social media is more important than ever in communicating vital information and connecting with customers. A solid social media strategy can make the difference between surviving and thriving under the current circumstances. Here are several points to consider when posting online or launching a campaign during crises. 
Divide Your Audience 
As a business, you might have a lot of relevant information you need to get out to your audience right now. The key is to divide your audience into segments and provide information tailored to them. 
For example, if you generally run a brick and mortar location along with online sales, only those customers who would regularly drop in would need to receive emails about new store hours or cleaning procedures. For virtual customers, these announcements are unnecessary and can be frustrating as they pile up in inboxes.
Similarly, now would be the perfect time to take a dive into which customers interact with your brand on different platforms. Based on demographics, you can tailor information when posting. An older audience may want to know if you have specific shopping times for them through an email blast, while parents may want some Pinterest cards showing how your product can entertain their kids. 
Recognize the Placement
People deal with crises differently. Some of your customers will be glued to the news cycle, while others would appreciate a laugh. In theory, there's nothing wrong with a well crafted, humorous post. 
However, it's crucial to remember placement right now. A post on a company blog or shared through email should be fine, but one posted to Facebook or Twitter can come across as tone-deaf if it ends up sandwiched between two serious messages. Because you are not in control of what else gets shared on specific platforms, try to be extra careful regarding wording and tone when posting to them. 
Focus on Trust-Building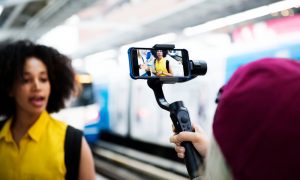 Trust-building is especially crucial for businesses unable to operate fully at this time. This hiatus is an opportunity to solidify brand values and culture, giving customers a better understanding of who you are and why they want to align with your product or service. Long-form social media posts, podcasts, and vlogs all can help you communicate larger ideas with your audience. 
Promote Community Support
While at all times people appreciate brands that give back, it is especially true right now. Knowing that by purchasing your goods or services, much-needed supplies are going to first responders allows customers to feel like they are doing their part, even while stuck in their homes. Giving back, or connecting your audience to those who are, sends a powerful message of hope and unity when we need them most. 
A Word of Caution
There are several reasons why you might want to run a promotion right now. You may need to offload merchandise asap or make up a foot traffic deficit. That's fine. But be careful not to seem like you're exploiting a global trauma by, say, using "coronavirus" as your coupon code or promotional hashtag.  
---
The Atlanta Small Business Network, from start-up to success, we are your go-to resource for small business news, expert advice, information, and event coverage.
Follow us on Facebook here and stay up to date or catch-up on all our podcasts on demand.
While you're here, don't forget to subscribe to our email newsletter for all the latest business news know-how from Atlanta Small Business Network.