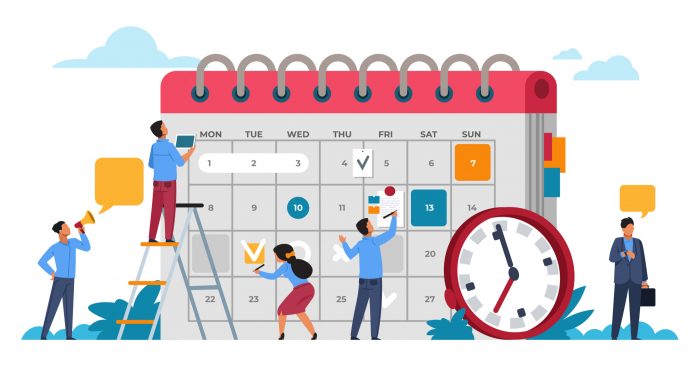 A content calendar, also known as a publishing schedule or an editorial calendar, is used for publication control on multiple channels: social media platforms, newspapers, blogs, emails, etc. The primary goal of any content calendar is to ensure that all relevant types of posts appear regularly on corresponding publishing channels. Therefore, such calendars are highly important for an internal organization of a publishing process. According to the tips shared by digital writers, an editorial calendar also makes it easier to refer to previously published content. Also, more links to the latter ensure better ranking on search engines.
The Usefulness of a Content Calendar
Sharing content calendars with advertisers helps to attract a latter and to better organize an act of advertising. The same is true for readers. Publishing (relevant) posts following a well-planned schedule train them to visit social media pages/accounts of a company at regular intervals. It works towards establishing a loyal readership. One good example of an editorial calendar is the one designed for the Special Reports rubric of the Financial Times magazine. It reports articles should be published more than one year and a half into the future.
Recommendations for Creating a Qualitative Content Calendar
Add Enough Detail
According to Maria Sotra, Forbes Councils Member and Vice President of Marketing at Geotab, one should aim to make an editorial plan ultra-detailed. First, this means creating a comprehensive list of topics, attempting to cover exhaustively subjects that are most relevant for readers. Second, it means specifying a publication's type/format and whether it is part of promotional or editorial content. Different formats serve different goals. Besides, providing your audience with various content types will help retain their attention longer and will ensure better engagement. Some popular types of content are:
videos

case studies

infographics

brochures

event handouts (including for virtual events)
To better serve your readers, your content calendar could include synopses for articles you are going to publish. A title alone is often insufficient for inferring what will appear in any published piece. Hence, it might be useful to include a rough outline of a post/article if available. This isn't obligatory for all articles, and it is not necessary to follow these outlines like 10 commandments when it's time to publish. A subject exposed to more intense scrutiny dictates its rubrics or elements that might differ from originally anticipated ones.
Make It Resilient by Conferring it's Flexibility
Some planned interviews might not work out, some topics might become irrelevant overnight. Others can emerge spontaneously, requiring urgent attention from an entire team. Your content calendar is never set in stone, but sufficient effort is needed to confer at least some flexibility and resilience. This means including backup or alternative topics, specifying which topics have a higher priority. Some lower-priority topics could be omitted should the necessity arise. Fortunately, when your topic is automobile news, it is generally easy to come up with alternative or backup ideas that would still prove relevant for many readers.
There may be occasions when your team won't be able to deliver publications on time. A life-saving solution, in this case, might be to contract a third party that provides on-demand writing services. Among the latter, a huge niche is occupied by services that help students with academic assignments. As writing expert Estelle Liotard states concerning one of these services, "While GetGoodGrade thesis writing service focuses mainly on helping students with their theses or academic papers, they could easily provide you with a case study in business or marketing, or many, many other types of specialized content." Those who are ready to take this approach one step further might even use such third-party content for entire rubrics on their websites or social media pages.
Make It an Ongoing Team Effort
Creating a content calendar should bring together all people involved for some brainstorming sessions. That is how to capitalize on the diversity of views your team can produce, even if some of them could be conflicting. Once completed, this product of teamwork would serve as a guiding document for an entire team. It allows them to see a bigger picture and better direct their efforts. Also, it helps avoid work on overlapping or redundant content and confusion as well as perception of inefficiency it can cause. As your calendar needs to be adapted/updated, this should be done transparently so that your entire team is aware. You can use the most basic collaboration software tools for this purpose (such as Google Sheets).
Don't Limit the Diversity of Content Planned
Because it features timelines and befriending/following, social media is a powerful tool for retaining customer's attention. A typical format and length of a post vary greatly from one social media platform to another. Yet, they are usually significantly limited for each platform. This shouldn't affect the diversity of publications that will be planned in your content calendar.
For instance, automotive industry news can benefit a lot from:
high-resolution image galleries from an occasional

auto show

,

rotatable 3D representations of car models,

diagrams and interactive charts comparing car specs,

long reads and lengthy videos, etc.
Oftentimes, social media platforms are poorly adapted or incapable to display such content or just too slow to process it. But social media is only needed to present readers with an appealing snippet of information – the rest of your content in whatever format could be accessed on the corresponding website through the accompanying link. Videos are among the types of content that work great on social media – in general, videos attract more traffic, lead to higher conversion rates, and offer a better ROI.
Final Thoughts
The link established with the audience via social media is a valuable instrument. It can be exploited to engage with it repeatedly for various purposes, including for making direct sales proposals. But to maintain visibility on social media, it is instrumental to publish original content frequently and at regular intervals. This is furthermore amplified by the way (timeline) recommendation algorithms work on these platforms. A content calendar can make the process of publishing much more efficient and organized, benefiting the content publishers, the customer audience, and even the advertisers.