A LinkedIn Company Page can give your business the opportunity to promote your product range, find great talent to hire, and share updates that are useful and interesting.
Anyone who has a business name and a business email address can design a LinkedIn Company Page in mere minutes. Not only is a LinkedIn Company Page easy to create, but it's also free.
There are 200 million members on LinkedIn. It's by far the most popular social networking site for professionals. Business-to-business companies should create company pages of their own without delay.
Facebook is generally seen as the most effective social network for companies in the business-to-consumer space. Businesses and end-consumers are able to effectively interact on Facebook. It's important to remember, however, that professionals are consumers, as well. This means that business-to-consumer companies can find success trying to sell to their customer base by targeting professionals on LinkedIn.
If you're ready to create an effective LinkedIn company page that inspires people to follow you, here are ten steps that you must take.
Write a Persuasive Summary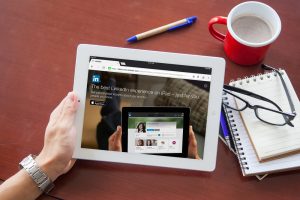 You get to publish an image, updates about your company, links to careers, details about products and services, and much more on your LinkedIn Company Page. At the end of the page, you get to add a short description of your company's history.
Certainly, the About Us section of a LinkedIn Company Page is at the bottom of your LinkedIn home page. This doesn't mean that you don't need to take the trouble to write a great bio for your company, however. It's important to remember that it's people who are interested in doing business with your company who establish contact with you in the first place. You should make sure that you fill the About Us section with interesting content about your company. Whatever you put on your About Us section, you should make sure that you use the right keywords, so that people are able to find you.
Talk About Your Most Popular Products at the Top
The Products and Services tab on your LinkedIn Company Page allows you to publish pictures of your products, write descriptions, and add links to pages where those products can be purchased. The sales area of a LinkedIn Page allows you to persuade visitors to buy your product.
Place Your Most Popular Product First
When you list your products on the Products and Services page, LinkedIn automatically displays the first item as featured content on your homepage. For this reason, it's important that you carefully choose what product you want to put at the very top of your listings. Choosing the right product can dramatically improve sales.
Place Career Information on LinkedIn
LinkedIn is an excellent destination when it comes to recruiting qualified employees. If you plan to use LinkedIn to recruit, you should be sure to add a Careers page. It's a paid service on LinkedIn at this time, but it's worth it.
Make Sure that Your Employees Connect with Your LinkedIn Company Page
If your employees have their own LinkedIn profiles, you should ask them to mention on their profiles that they work for your company. Right away, links to their profiles will appear on your LinkedIn Company Page, and visitors will be able to click on them to learn more about them.
Ask Your Customers For Reviews
LinkedIn members can write reviews of your products and services on your LinkedIn Company Page. You can feature these written testimonials on your Page, or put them on your website. Doing this can help you attract more visitors.
Make Your LinkedIn Company Page as Useful as Possible
Your LinkedIn Company Page needs to feature useful content if it is to attract an audience. If your LinkedIn Page has no content, people will have no reason to visit you. You simply need to identify areas that are likely to interest your visitors and write content on them.
Make Use of the LinkedIn Follow Button
LinkedIn allows businesses to place a LinkedIn Company Follow button on their website or blog to allow people to follow them with one click of the mouse. It's important to place the button on your web properties.
Use the Featured Updates Function to Put Important Content Front and Center
When you publish an update on your LinkedIn Company Page, like information about a sale, or a great new blog post, set it as a featured update. Make sure it appears at the top of your LinkedIn Company Page. It can help promote your update to have it show at the top of your home page.
Promote Your Updates with Targeted Updates
The targeted updates feature on your LinkedIn Company Page allows you to decide what updates are visible to different audience segments. You can have different updates show only to employees, only to members of your industry, or members logging in from a certain location.
If you try to fill your LinkedIn Company Page with useful content and make sure that you use all the features LinkedIn offers to help you popularize your page, you'll find success.
---
The Atlanta Small Business Network, from start-up to success, we are your go-to resource for small business news, information, resources.

Follow us on Facebook here and stay up to date or catch-up on all our podcasts on demand.
While you're here, don't forget to subscribe to our email newsletter for all the latest business news know-how from Atlanta Small Business Network.
This has been a JBF Business Media production.