Reputation is everything in business. People visit stores trusted to provide quality products and expert advice. Encourage consumer confidence in your store by using authoritative marketing techniques. Make your business a customer's first choice.
The 5-Step Plan to Building Business Authority
Create Your Own Video Tutorials   
Consumers taking on a project are often unclear how to go about it or what tools they will need. What do they do? They search for instructional videos. You can be the one to show them how to perform a task, using the very products you sell. Now they view your business as an authority on the subject and are more likely to buy your products.
Regardless of what your business sells, videos can be used to enhance reputation. For example: 
If you sell tools or home improvement supplies – try creating DIY how-to videos. 

Gardening-based companies can produce guides on landscaping or how-to grow vegetables. 

Companies supplying crafting goods can host online arts and craft lessons. 

Digital product providers should show how-to videos about software usage. 
Consider the following: 
Adobe hosts software video tutorials.   

Callaway Golf produces golfing instructional videos.   

Absolut Vodka shows customers how to make drinks using their products. 

Best Buy has hundreds of educational videos about the products they sell.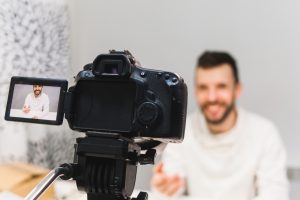 These companies are experts in their field and chose to provide how-to videos. Why? Because they realize the value of influencing consumer opinion through video.  
Once you have produced your very own video tutorials, you need to post them. Options for hosting your video tutorials include: 
YouTube for posting video tutorials. Consider setting up a channel – it looks more professional.   

Add videos to social media accounts. 

Host videos on your website or blog.   

Create a unique blog or separate website for how-to content. These can appear in search engine results.
Get Active On Forums and Message Boards
Online discussion areas are effective platforms for building authority. Forums, message boards, and chat areas offer the opportunity to interact and engage with consumers.   
Forums are the most popular platform. Consumers see them as excellent sources of information. As a regular contributor, you have a chance to display your expertise and build business authority. You can do this by: 
Answering questions 

Submitting how-to tutorials 

Providing product reviews 
Users who view you as knowledgable and helpful might become potential customers. The idea is to build trust in you and the business you represent.
Don't Underestimate the Power of Blogs 
Blogs (especially consumer advice blogs) continue to be favored resources for consumers. They provide a platform for in-depth written content and are the place for lengthier tutorials or weekly advice columns.
Blogging can be an effective method for boosting consumer confidence. If you don't have time or resources to host your blog, consider posting as a guest author on other blogs.  
Enhanced Email marketing
Send out authority-building content via email. You can keep it simple with text-based how-to guides or advice. A better strategy, however, is to create e-newsletters using email templates or free software. Not only do e-newsletters appear more professional, but you can also add branding.  
Create an Online Magazine 
Creating an online magazine is an excellent strategy for building business authority. A magazine can make you stand out from the crowd. It also offers exceptional opportunities for branding and product promotion. You can use free software to either create a digital magazine or convert a pdf to a magazine format. 
Post simplified industry news
Do you go online to find out the latest news relating to your business? Do you find yourself scrolling through non-relevant content before finding what interests you? Is the material over-complicated or over technical? Could you do better?
Create a weekly round-up of industry news to captivate your customers. Make it digestible, less technical, and more tailored to your customer base. Becoming a go-to news source would boost your business authority.
Promote, Promote, Promote
Now you have produced your authority-building content; it is time to promote. 
Upload videos to other media outlets (Dailymotion, Vimeo, Metacafe, and Vevo).  
Upload your magazine to digital content marketplaces, such as Flipsnack or Zinio. Make it available in app stores like Google Play or iTunes. Add it to a dedicated magazine search engine, like Magvault.   

Provide email links to your other material (video tutorials, pdf, and new blog posts). 

Run a campaign to increase email signups.   

Advertise your blog and forum online. Ensure they are search engine optimized. 

Use social media accounts to post about your other authority-building content. Use giveaways and competitions to increase interest in your profiles. 
Authority = Reputation = Sales
People looking to buy goods choose companies they trust. If your company increases its authority, it improves its reputation, which means more customers and an increase in sales. Incorporate authoritative marketing techniques into current marketing strategies to give your business the best chance for success.
---
The Atlanta Small Business Network, from start-up to success, we are your go-to resource for small business news, information, resources.

Follow us on Facebook here and stay up to date or catch-up on all our podcasts on demand.
While you're here, don't forget to subscribe to our email newsletter for all the latest business news know-how from Atlanta Small Business Network.
This has been a JBF Business Media production.