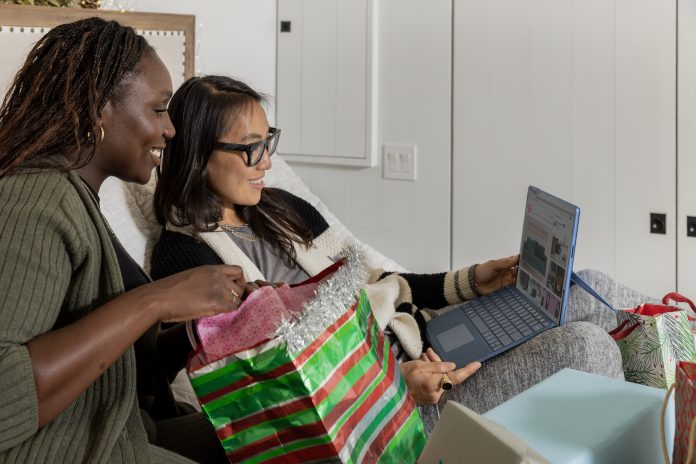 The holiday season brings many traditions, and for consumers, one of the biggest is gift shopping—making the holiday season one of the most important times of the year in terms of revenue. As a matter of fact, 30% of all retail sales occur between Black Friday and Christmas.
Because of the shift from brick-and-mortar sales to online shopping, the number of shoppers businesses will see walk through their doors the day after Thanksgiving may have declined in recent years. However, the trend of shopping online and extending the shopping frenzy to include the days between Black Friday and Cyber Monday has increased.
That means retailers need to deploy creative sales tactics that include in-store promotions, social media advertising, website optimization, and eCommerce methods to grab the most significant share of sales.
Cyber Monday has replaced Black Friday as the biggest money maker in terms of sales and revenue. Shoppers spent $10.7 billion during Cyber Monday in 2021 and $14.13 billion during Thanksgiving and Black Friday. According to the National Retail Federation, Black Friday 2021 saw 66.5 million shoppers in stores and 88 million shoppers online.
No matter which sales strategy you use, it's easy to see that capitalizing on the shopping spree that runs from Black Friday to Cyber Monday makes sense. This article will outline the 17 best ideas small businesses and retailers can use to generate excitement, drive customers to the checkout, and grow brand awareness, all while raking in revenue dollars.
Generate Excitement
The best way to drive traffic to your business is through targeted marketing. Consumers will be inundated with Black Friday advertising in the weeks leading up to the big day. Hence, companies must get creative and use a well-rounded strategy to capture the most significant market share.
The best advice for an effective marketing campaign is to go where the audience is. Social media is a great advertising tool, and even better, highly shareable content gets an extra boost. Utilize mailing lists to send out targeted emails with news about upcoming sales and events, and don't forget to segment those lists for the best results. An attention-grabbing subject line is vital as well.
Other ways to generate excitement can include in-store and virtual signage. Be sure to include messaging, banners, and popups on your official website to let customers know why they should return. Use in-store signage, flyers, and bag stuffers so customers will quickly see the value of spending their holiday dollars with your business.
Offer a Sneak Peek
Let customers feel as if they're getting the inside scoop by offering a glimpse of items that will be on sale or discounted during the event. You can use a combination of social media, email marketing, and traditional advertising methods to do so.
Another way to build excitement is to release sneak peeks a little at a time or hold some of the biggest news for last. Keep customers interested by offering them the proverbial carrot rather than showing your whole hand immediately.
Launch a New Product  
What better way to spark a conversation about your brand than by unveiling a new product in the lead-up to Black Friday? Release news of the upcoming launch ahead of Black Friday weekend to generate excitement and get people to line up on the big day for first access. You could even tie in a discount or sale for the first customers who purchase the new product.
Use a Countdown Timer
Nothing says buy now better than a countdown clock. Include a timer on your website to let customers know when the big sales start, and they will be ready to fill their carts when the timer hits zero. Don't forget to advertise the countdown on social media.
Harness the Power of Social Media
Speaking of social media, the numerous platforms available have become valuable marketing tools for brands all year long. Take advantage of the followers you already have by targeting messaging to social media platforms and gaining even more followers by urging brand advocates to share posts with friends and family. 
Early Birds and Door Busters  
Offering extra deep discounts for the first people through the door (or online) is a great way to generate traffic. People love saving money, especially during the shopping season, and letting them know they can save even more by being the first in line will grow traffic and revenue.
Sales, Discounts, and Bundles
The heart of Black Friday shopping revolves around sales. Make your sales promotions extra special by offering customers an extra discount when they bundle items or setting a threshold amount for carts that lets them save more. Doing so will increase basket sizes and increase revenue overall.
Flash Sales/Hourly Sales
Flash sales rotate every hour and give customers a reason to keep coming back to check for the next big deal. You could offer a general discount on specific items or everything in the store or tack on extra savings for specialty items. 
Get extra attention by targeting sales to the right time of day – for example, offer items that match which age group is shopping at a particular time. On average, flash sales generate a 35% increase in transaction rates. 
Free Gifts are Everyone's Friend  
Everyone loves getting something for nothing – and shoppers especially so. Offering a free gift with a purchase will give buyers a reason to shop with your business. Match the free item to the sale item for even better action, like free socks when you buy shoes or a free beauty item when you buy perfume. 
Buy One, Get One 50% Off  
Nothing sounds better to a shopper's ears than BOGO sales. Buy one, get one 50% off discounts are a great way to clear out inventory and increase basket sizes. You could offer a 50% discount for the early birds and then switch to a buy one, get one 50% off sale for the remainder of the day to drive extra traffic. 
Weekend Sales
Don't forget that many shoppers have extended the Black Friday holiday to include the entire weekend through Cyber Monday. Developing your sales initiatives to match traffic flow will ensure weekend shoppers aren't left out.
Free Shipping  
Statistics from last year's shopping season show that free shipping and ship-to-store options are among the biggest drivers for shoppers' buying decisions. Offering free shipping is like offering an extra discount and offering the ability to order online and then pick up in-store saves shoppers time and money.
Make it Fun!  
Black Friday has gained a negative connotation for some people because of the frenzy it often creates. Put the fun back in the shopping experience by offering guests something fun and exciting – like live music, events, free food and beverage offerings, and more. Get creative and find a way to greet guests with a smile.
Gamification
The process of gamification means turning something otherwise straightforward into something that is fun – and offers customers the chance to win big! Try an in-store or online virtual wheel that customers can spin for gifts or extra discounts. Or include a scavenger hunt so customers can search for additional savings. There are lots of ways businesses can gamify the shopping experience.
Giveaways and Contests  
Another way to let customers win is by offering giveaways or contests. Allow customers to fill out a form in-store or online to put their names in the pool for a drawing. Advertise the "pick the winner" event online, or even live stream it for extra attention. 
As a bonus, giveaways offer a great chance to grow email and newsletter subscriber lists because customers can be prompted to sign up and provide their contact information to access the prizes!
Offer Discounts on Gift Cards
A survey of shoppers in 2021 found that 83% prefer giving gift cards instead of physical gifts. Maximize the potential of gift cards as a traffic driver by offering bundled discounts or in-store promotions. Or offer free gifts with the purchase of a gift card to drive traffic through the doors.
Optimize the Website
With the amount of traffic that has transitioned to digital platforms, businesses must pay attention to their website as a source of revenue. Website traffic is expanding, especially during the busy holiday shopping season. Transform landing pages to reflect Black Friday sales and events, and make sure your website is optimized for mobile users too.
Conclusion
Black Friday, Cyber Monday, and the stretch of days surrounding them are some of the most critical days for small businesses. The number of customers visiting your store, both online and in-person, will likely never be higher at any point in the year. 
Make the most of your marketing campaigns by using multiple channels, optimizing content to match your audience, and generating buzz early. Then offer customers something special on those big shopping days, and watch the dollars roll in. Happy selling!
---
The Atlanta Small Business Network, from start-up to success, we are your go-to resource for small business news, expert advice, information, and event coverage.
While you're here, don't forget to subscribe to our email newsletter for all the latest business news know-how from Atlanta Small Business Network.