More than half of small businesses plan to hire entry-level employees in 2019, according to a recent survey by Clutch.
Today's thriving job market means that job-seekers may be considering multiple job offers. Yet, nearly one-third of small businesses lack formal HR resources, which puts them at a disadvantage for recruiting new talent.
How, then, can your small businesses compete for job candidates against large companies with higher salaries and generous benefits packages?
Emphasizing the advantages of working at a small business is one way to persuade entry-level job candidates.
This article explores the employment advantages that your small businesses can offer and three ways to focus on those advantages to improve your business your recruiting strategy and success. Use this information to inform your entry-level recruitment strategy.
1. Emphasize Teamwork, Relationships, and Fair Treatment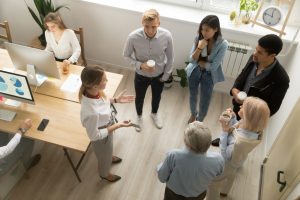 Relationship dynamics at small companies provide remarkable advantages for entry-level employees.
To start, new employees engage with co-workers much quicker compared to large companies because everyone works in closer proximity.
The professional networking at small firms also offers more rewarding professional experiences, since no one person goes unnoticed.
Teamwork is a natural part of daily work life at smaller firms, and entry-level employees quickly become an integral part of the group.
Unlike large companies where meetings take place on rigid schedules, team members in small companies can communicate as needed when ideas or problems arise.
All workers have a voice and can more easily communicate with management if they see a need for improvement.
Job-seekers and employees place a high value on ethical standards and fair treatment.
You can turn this strength into a recruiting advantage for your firm by creating ethics policies that commit to fairness in the workplace.
For example, use your job listings or careers page to highlight the advantages of your small business environment with regards to ethical employment practices and employee engagement. These include:
Compensation based on skill, rather than privilege or gender

Benefits based on employee preferences rather than recommended by a PPO or cost-driven model.

Collaborative environment

Tight-knit company culture
Promise employees easy access to your company's decision-makers if they experience any problems and make sure you practice fair and ethical treatment for everyone.
2. Highlight Professional Development Opportunities
The small business experience provides professional development opportunities that are hard for large companies to match.
For example, small business employees are much more likely to be responsible or involved in multiple functions of day-to-day business operations. This offers immersive experiences that accelerate individual learning curves and provides people with a well-rounded business education.
Daily contact with business leaders also provides mentoring and training opportunities that can fast-track a person's real-world business knowledge.
Working directly with decision-makers means also employees have a high chance of securing promotions if their work is exemplary.
Working for a small company means that talent is more likely to get noticed and rewarded than if they were working for a large corporation. This is extremely appealing to prospective employees who value the opportunity to make an impact at a company and have their abilities recognized by peers.
3. Demonstrate Employee Impact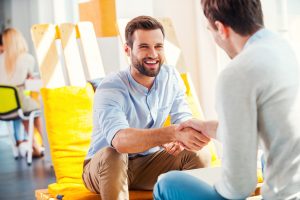 Employees at small businesses can directly impact their businesses' success through their performance, input, and ideas.
This measure of accountability and ownership over tasks, projects, and business functions is unique compared to large businesses. Advertise and communicate these sorts of opportunities as part of your recruiting pitch. People with high ambition and ownership are naturally inclined to seek professional opportunities that allow them to make a significant impact on their business.
Make job candidates aware of the impact they will have on your business. The ability to make an impact can be a strong personal motivator for entry-level employees and allow them to map out their own professional path.
Play Up the Unique Perks of Working for a Small Business
Small businesses are an ideal working experience for entry-level employees. Specifically, your small business can offer strong professional relationships, training, and the ability to make a real impact on the success of your business.
Your small business needs to communicate the impact your employees can have to attract ambitious entry-level employees.
---
The Atlanta Small Business Network, from start-up to success, we are your go-to resource for small business news, information, resources.

Follow us on Facebook here and stay up to date or catch-up on all our podcasts on demand.
While you're here, don't forget to subscribe to our email newsletter for all the latest business news know-how from Atlanta Small Business Network.
This has been a JBF Business Media production.