Is social impact important to consumers? The data shows that the answer to this question is a resounding "Yes!" According to a 2018 Human Capital Trends Survey conducted by Deloitte, 86 percent of millennials think that business success should be determined by more than just a company's financial outlook. Also, according to the 2018 Edelman Trust Barometer, 52 percent of individuals throughout the world trusted businesses "to do what is right."
Increasingly, consumers are expecting companies not only to sell products but also to solve many of society's most pressing problems. This notion has increased the establishment of corporate social responsibility departments in companies as well as the emergence of social enterprises, a company that combines revenue growth with the mission of creating sustainable solutions for the environment around them. According to data from 2012, while social enterprises as a whole brought in a revenue of $300 million, many are bringing in lower numbers.
45 percent of U.S. social enterprises have less than $250,000 in revenue, and only 22 percent have sales of over $2 million. For many social enterprises and companies that are making corporate social responsibility a priority, it can be daunting to make a profit while also keeping true to your company's "social" purpose. So, how can social businesses still grow revenues while also optimizing their impact? Read on for our tips below.
Ensure That Leadership Understands Your Dual Purpose
If your company has a "social" focus, then all senior leadership, as well as board members and investors, need to understand the importance of this idea to your company. Your business has a purpose beyond the bottom line. If a sustainable plan to help the community temporarily impacts revenue growth, then having leaders who embrace this principle will make it easier for them to understand the obstacles that may face your company. They will be in a better position to offer advice and more apt to stick with your company as you and your team craft a strategic approach.
Take a Stand Against Mission Creep
"Mission creep" is a term that is traditionally reserved for nonprofit organizations that tend to veer away from their intended purpose. Social enterprises and corporations can also experience this if they do not commit to sticking to their original social goal. For example, if you have a social enterprise that focuses on providing building materials to lower-income individuals, then taking on automobile equipment would take the company into new territory while also creating additional costs. This situation is why it is crucial to have a strong leadership team that stays dedicated to the original purpose.
Balance Social Experts with Business Professionals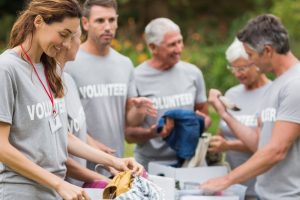 Depending on the issue area that you are addressing, it is crucial that you have people on your team that are familiar with the problem you are solving. However, passion and empathy are not enough to create a successful company. You need to ensure your organization is also filled with experienced business professionals like accountants, marketers, and finance experts that can also relate to your cause. These individuals can help you seek out new opportunities for profit while also monitoring your books to ensure you are operating "in the black." They can also advise you about your current profit-making strategy, and steer you in the right direction.
Build Efficiency into Everything You Do
Take a look at the product or service you are delivering and see where you can optimize your approach to save money and time. If you are creating environmentally-sustainable apparel, can you look into using more affordable materials that are still true to your mission? Can you save on office rent by having your staff work remotely? Also, are there any profit-making opportunities you could be missing out on? Is there a company you could partner with to ease up on an operational process you have? Work with your team and senior leadership to see how you can build efficiency into your operations.
Final Thoughts
Social enterprises and corporate social responsibility departments have a dual purpose. Not only do they have to bring in revenue to satisfy investors, but they also have to fulfill the mission of solving a social issue. Successful organizations like TOMS Shoes, charity: water, and Better World Books have figured out how to successfully increase revenue and raise funds while still adequately serving their populations. If you create a strategy that acknowledges both of your goals, then it will be easier to stay financially successful while also making a difference in your local and global community.
---
The Atlanta Small Business Network, from start-up to success, we are your go-to resource for small business news, information, resources.

Follow us on Facebook here and stay up to date or catch-up on all our podcasts on demand.
While you're here, don't forget to subscribe to our email newsletter for all the latest business news know-how from Atlanta Small Business Network.
This has been a JBF Business Media production.