Are you missing the passion and inspiration that you once had for your small business? While no one else is as motivated about your success story as you are, how do you push past the limits of your performance and become a high achieving entrepreneur?
On today's show, we speak to Daniel Waldschmidt, business consultant and author of the best selling motivational book, EDGY Conversations: How Ordinary People Can Achieve Outrageous Success. Daniel's consulting firm, Waldschmidt Partners, also solves complex marketing and business strategy problems for large companies all over the world, and his work has been featured in Forbes, Business Week, BBC, The Today Show, and Business Insiders.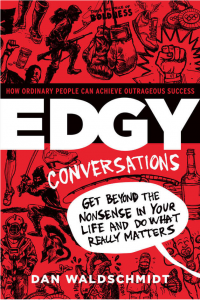 According to Dan, an edgy mindset is having the most common traits that are shared among high performers. It's about going to the extremes in how you bring value to your company and being disciplined in those practices.
E:  extreme behavior
D: disciplined activity
G: a giving mindset
Y: a (y)human strategy
Being human, embracing your flaws, admitting when you are wrong, and then continuing on an upward path are really the qualities that every high achieving entrepreneur needs to possess. Dan explains:
"This leveling up activity was universal amongst all of them. Whether it was sports, business, or politics, or math, or science – whatever breakthrough that we interviewed someone in the middle of, they had pursued this epic path of continuous leveling up."
---
The Atlanta Small Business Network, from start-up to success, we are your go-to resource for small business news, information, resources.

Follow us on Facebook here and stay up to date or catch-up on all our podcasts on demand.
While you're here, don't forget to subscribe to our email newsletter for all the latest business news know-how from Atlanta Small Business Network.
This has been a JBF Business Media production.