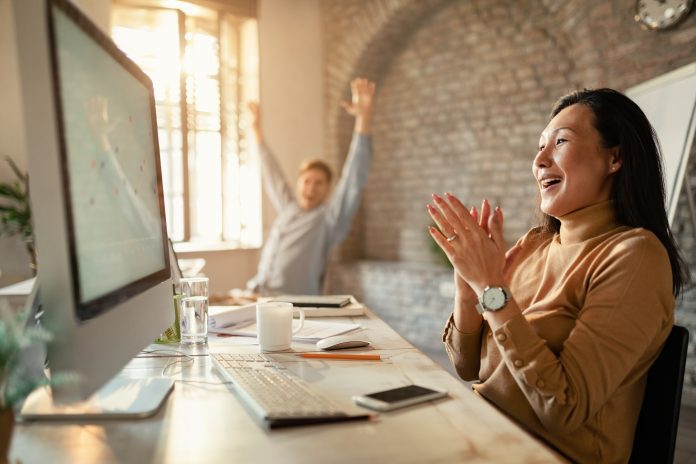 Today, company heads and entrepreneurs can take strategic steps to develop a winning business mindset. The Hard Business Review states that the key is to cultivate an analytical mindset so that you can adapt to new conditions and address obstacles before they spiral out of control.
What's interesting is that over 30% of American adults choose to become entrepreneurs. It shows that pursuing the American dream inspires others to follow. In fact, around 40% of small business owners highlight that it takes self-discipline to build a winning entrepreneurial mindset.
Let's dive into the ten actionable insights and tips that you can use to build a winning business mindset:
1. Set Clear Goals
Your goals act as your compass that keeps you on the right track. So, make sure to objectively define your short and long-term goals. You can use the SMART framework to define your objectives. After that, break down your goals into steps to develop a roadmap that can help you achieve success faster.
Solid goals help business owners and entrepreneurs to be purposeful and persistent. Also, continue to review and adjust your goals depending on "your" changing business requirements and circumstances. 
2. Have Self-Belief
Self-belief is one of the elements that will help you build a winning entrepreneurial mindset. The trick is to realize and recognize your main skills and strengths. Additionally, highlight your accomplishments, no matter how small, and use them as a foundation to reinforce your self-belief. 
If you have a strong belief in yourself – you can become an unstoppable force with purpose and dedication. It will also allow you to be wise and intuitive about how you use your skills and expertise. Once you acknowledge your core strengths and expertise, it works as a self-assurance that helps you navigate complex business decisions and inspires you to fulfill your goals.
3. Cultivate Adaptability
One of the elements that will get you far ahead in the business world is adaptability. If you can adapt to new dynamics and market conditions, you can leverage new opportunities and drive long-term growth. So, don't see change as a threat. Instead, take advantage of new technologies and ideas. Your flexibility to adapt also helps you stay ahead of your competition.
4. Practice Positive Thinking
You need an optimistic mindset to ensure the long-term success of your business and entrepreneurial efforts. Your mental attitude should be to solve problems and have an open perspective. It will foster more creative thinking and lead to transparent collaboration. 
5. Foster Resilience
A highly resilient mindset shows that you can handle unexpected and inevitable challenges. Businesses are bound to experience some setbacks; when that happens, your resilience will help you ward off potential failures. However, it requires a proactive effort to review your experiences and learn from your past mistakes.
6. Build a Network
Strategically build a network of people who can challenge and uplift you. This network should help you get partners, ideas, and new perspectives. You can engage in industry seminars and events or join online communities. A solid network supports you and helps you reach out to a bigger audience. 
7. Embrace Continuous Learning
Continuous learning will help you build a growth-driven mindset. You should be curious to best utilize your industry knowledge, relevant skills, and emerging trends. For continuous learning, read books, engage with online communities, sign up for online courses, and participate in in-person workshops. 
8. Practice Gratitude
It is easy to drift afar and lose sight of your objectives. So, practice gratitude and patience to be in the moment. In fact, take a step back and convalesce when you have to. Most importantly, take your time to appreciate your support group, like mentors, customers, and internal team. Remember, gratitude fuels more innovation and improves relationships.
9. Embrace Failure as a Teacher
The last thing business owners and entrepreneurs should do is dwell on their failures. Embrace insights, analyze failures, and incorporate new changes to turn the tables. Embracing failures helps you come up with more effective strategies and allow you to be more resilient.
10. Manage Risk Wisely
Businesses and entrepreneurs actively take calculated risks. But it takes practice to review potential risks and weigh benefits against rewards. Use insights and collected data to make logical and informed decisions. Instead of stressing the risk of failure, take measures to mitigate potential risks and leverage the most valuable business opportunities.
Final Thoughts
The modern business landscape is competitive and dynamic and requires entrepreneurs and CEOs to build a winning mindset to drive more innovation and consistent growth. Small business owners, startup founders, and entrepreneurs need to find the "right" balance every time they leverage a new opportunity.
Remember that the path to success depends on your determination and resilience. In retrospect, nurture a winning business mindset around self-confidence, self-growth, adaptability, positive outlook, and continuous learning.