Companies nationwide have quickly learned over the decade that quality customer service is the driving force for customer loyalty. Regardless of the product or service, if a business takes exceptional care of its consumers, they're more likely to retain them for a longer period of time. Our next guest is a customer experience turnaround expert, consultant, trainer, keynote speaker, and the author of the new book, Ignore Your Customers (And They'll Go Away): The Simple Playbook for Delivering the Ultimate Customer Service Experience, Mr. Micah Solomon.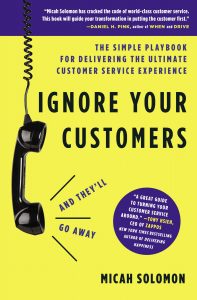 In this segment, we learn more about Micah's background in customer experience and the takeaways behind his brand new book, Ignore Your Customers (And They'll Go Away). He also discusses how businesses can turn around their customer experience strategy and transform negative experiences into positive ones. We then find out why customer service is such a pain point for both businesses and consumers, and learn more about how customer expectations have changed over the years.
Jim and Micah also tackle where companies often go wrong when it comes to the customer experience, and who is responsible for ensuring that a great experience is being delivered. To find out more about customer experience best practices from Micah, be sure to watch the full interview above, and check out his latest book, Ignore Your Customers (And They'll Go Away) now available on Amazon and other major retailers.
---
The Atlanta Small Business Network, from start-up to success, we are your go-to resource for small business news, information, resources.

Follow us on Facebook here and stay up to date or catch-up on all our podcasts on demand.
While you're here, don't forget to subscribe to our email newsletter for all the latest business news know-how from Atlanta Small Business Network.
This has been a JBF Business Media production.