All work and no play leads to a dull, boring office and low morale. People who work in offices tend to spend their time working alone or in small groups, but it's difficult to get them to interact otherwise. A good leader will encourage and motivate their employees to get to know one another, to bond as a team, and to work as one cohesive unit. Training and manuals only go so far to motivate teams, what they really want, is to have a little fun. Here are seven of the best employee bonding activities that will bring the team together for some fun and bonding this summer.
Activities for Inside the Office
Break up a long workday by getting everyone involved with one of these quick, fun indoor activities. They're not just entertaining, they also help build important skills like communication, empathy, and problem-solving. But, don't tell anybody, just have fun and enjoy the experience.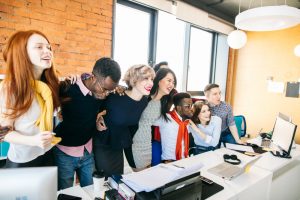 Sneak-a-Peek
Grab a few sets of building blocks or any other toy that's used to create objects. Split the team into small groups and give each group a set of blocks and a private area to work in. Ask one group to create something out of the materials. Once they've finished, send one representative over from each of the other groups to sneak a peek at what they've created. After 10 seconds, send them back to their group to explain and recreate the object they've seen. Give them about a minute to attempt to create the item, and then send another player over to get more information. The group that finishes first with the closest representation wins. The point of the game is to strengthen communication skills and test information retention.
Who Is Everyone?
Write the names of famous people on post-it notes and pass them out randomly to each employee without showing them the name. They can place the note on their forehead, or back just as long as they can't see it, but everyone else can. Once everyone has a name, they mingle with one another. The idea is to talk to and treat the other person as though they were the individual named on the note. Players are allowed to ask questions of others to try and guess what they're assigned name is, but no one is allowed to speak the name. If a player guesses correctly, they've won that round and maybe a small prize. The object is to teach employees how it would feel to be someone else who is very different from themselves.
Two Truths and a Lie
Each person has to get up in front of the group and introduce themselves using their name and perhaps their position in the company. They're also instructed to offer one lie about themselves and two completely true statements. The idea is to convince everyone that the lies are, indeed, truths. The other team members have to figure out which statements are true and which is a lie. They can ask questions and confer with one another. Award points for correct guesses, and also for tricking the others. The highest score wins a small prize. The benefits of playing are that it builds communication skills and helps team members learn about each other.
Activities for Outside the Office
Nothing is more motivating than getting out of the office for a day of fun in the sun. Schedule a day when things are slow and gather the team for some awesome physical activities that relieve the stresses of their busy workdays.
Go Kart Racing
A great way to work off some pent-up energy is to go-kart racing. Split employees into racing teams that work together, or make it a flat-out individual race. Either way, the competition will be fierce and there will be some serious bonding going on. Keep track of the winners of each race and award a trophy for the best racer, or team. The team will be cheering for each other, laughing, and having a great time while they compete. Not only will it build stronger bonds between team members, but it also gives them a chance to break free of the office and let loose a little. 
Laser Tag or Paintball
For groups that love to get outside and blow off a little steam, laser tag or paintball are good activities. Determine the teams in advance, but keep it a secret until everyone arrives at the event. They'll have to work with whoever they're assigned to and there's no preplanning. Create teams of people who don't normally work together. Reveal the teams and give them some time to work out their positions and strategy before the battle begins. At the end of the day, the winning team receives a prize and bragging rights. More importantly, everyone learns how to work together, communicate, and share the credit.
Scavenger Hunt
A scavenger hunt is a great way to get everyone outside for some fresh air so they come back refreshed and ready to work. Use a city park or the entire city as the playground. Decide what items will be hidden and where and make a master map of where everything is. Get creative and come up with some clues that will lead the team members to the hidden items without being too obvious. A scavenger hunt can either be a team or individual activity. The first team, or person to find all of the objects and returns them to a predetermined destination wins.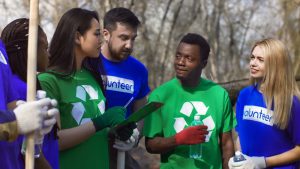 Community Service Projects
Giving back to the community that supports your company is an awesome way to build a strong team. Organize a trash clean up day at a local park, serve food at a shelter, collect clothing and other essentials for needy families, or work with a youth group to teach valuable life skills. It doesn't matter what the activity is, the important thing is doing it. There are as many volunteer opportunities as there are people and it shouldn't be too hard to find one that everyone can all agree on. Contact local churches, charitable foundations, schools, or other organizations and ask what they need and the company and team can help.
Motivate the Team and Everyone Wins
Long workdays, heavy workloads, and stress make for an uncomfortable work environment and unhappy employees. When employees are happy, they're more productive, satisfied, and energetic at work. Taking time to enjoy some fun activities like the ones listed here will have a positive impact on every member of the team. It will reduce friction, ease stresses, and bond people together. A workplace that's happy and positive also increases the odds that the company will not just survive, but thrive.  
---
The Atlanta Small Business Network, from start-up to success, we are your go-to resource for small business news, expert advice, information, and event coverage.

Follow us on Facebook here and stay up to date or catch-up on all our podcasts on demand.
While you're here, don't forget to subscribe to our email newsletter for all the latest business news know-how from Atlanta Small Business Network.
This has been a JBF Business Media production.