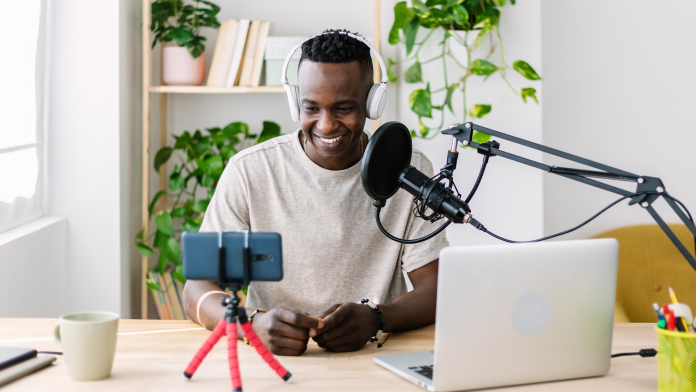 Entrepreneurs are always looking for ways to diversify their advertising strategies. The growing digital world has changed how people search for, consume, and share information. Entrepreneurs who want to reach a wider audience need to use every avenue available to do so, including starting a podcast.
Email marketing, social media, and paid advertising still have their place in a marketing portfolio. However, entrepreneurs searching for ways to grow their brand can do so, and more, with a cunningly created podcast. 
This article will outline the benefits of podcasting and how to get started. So, let's get into it!
Podcasting for Entrepreneurs – Why it Makes Sense  
Podcasting is a cost-effective way for businesses to reach a broad audience of interested consumers, offer them value that keeps them coming back, and turn them into loyal customers and brand advocates. In many ways, podcasts do these things in a faster, more accessible, and less inexpensive way than most other advertising methods.
The benefits that entrepreneurs can gain from creating a podcast are many. We have listed some of the most significant benefits below.
Podcasts Reach a Wider Audience
There are many ways for brands to get information about their products and services in front of potential customers. For example, blogs are a way to attract interested parties to your website. However, different people frequent different platforms.
But not everyone enjoys tucking in with a good blog or article. Reading information takes focused attention and dedicated time.
Your audience can integrate your podcast into their everyday activities, like driving or exercising. Many listeners prefer to consume information this way. On the other hand, listeners can access podcasts while simultaneously living their lives.
Plus, having a podcast helps attract those who don't enjoy reading or browsing social media. Without giving this slice of your potential customer base access to your brand, you're essentially leaving them out in the cold.
Reach People on a Personal Level
Podcasts lets you engage with your audience in your voice, which will help them connect with you on a more personal level. It creates a conversation instead of a lecture, allowing your audience to feel like they're in the room with you. 
Engaging on a personal level helps to build trust and authenticity. Consumers will react to those feelings and be more likely to take that next step to become customers.  
Foster Your Reputation as an Expert  
It'sResearching a topic and creating a blog post about it is one thing. It's another thing entirely to step up to a microphone and speak openly about a topic. When people listen to podcasts, they build trust in the host's expertise.
When someone speaks on a topic they're knowledgeable and passionate about, it establishes them as an expert in their niche.
Help Build Your Brand
Podcasts offer the perfect platform for creating interest in a brand and establishing you as an authority in the industry. When those two things combine, it puts your brand on another level.
There are over 180 million podcast listeners in the United States. That's a massive chunk of the market just waiting to learn about your brand.
Creating a podcast also benefits entrepreneurs because it puts the power of branding in their own hands. You can create content that builds interest and creates value for your listeners. Add this to carefully placed product promotions, and consumers will want to reach out for more information.
Create Revenue Streams
Entrepreneurs can take the next step and monetize their podcasts through a variety of methods. Affiliate marketing is a great way to create a passive income stream. Sponsorships and partnerships with other entrepreneurs are powerful tools to diversify the marketing capabilities of a podcast.
You can promote your partner's products on your podcast, and in turn, they can promote your products on their channel. Boom – free marketing.
Grow Your Network
Networking is one of those phrases tossed around in the business world that is incredibly undervalued. Creating connections is the best way to grow the value of a business. The benefits are exponential, whether from building a loyal audience or inviting industry experts and leaders for interviews.
How to Start a Podcast for Your Business
Podcasting, like anything, takes a bit of effort. But once the framework is in place, producing valuable content will come easy. Here are some of the first steps you should take before hitting record on your first episode.
Decide the why, who, and how of your podcast
The first step to creating anything is deciding how to start. Create content that is valuable and interesting to your target audience. The topics of discussion on your podcast should center on your industry.
As for the how – the key is to speak to your passions. Most entrepreneurs have already started their ventures based on a passion or interest. By tapping into your passion, you will find that the content you're looking for is already there.
Create a name and description for your podcast
Creating an attention-grabbing name and description is key to hooking listeners. You can approach this in several ways – directly, humorously, or even by adding your name to the title.
Decide on the format, length, and frequency of your episodes
Are you interested in doing a solo podcast, or would you instead bring in guests to share their own experiences? How long will your episodes be? Will you publish every week, every other week, or even daily?
Get your equipment and start recording
It doesn't take much to produce a solid podcast. With a bit of planning, access to the internet, and a reliable USB microphone, you are pretty much ready to go. Add in some recording and editing software for that professional touch, and you're well on your way.
Where To Host Your Podcast
Hosting platforms have evolved and multiplied since the invention of the podcast. While this is good in many ways, for those just getting started, it may be slightly overwhelming.
The best advice on choosing a hosting platform is to do your research. Read up on the offerings and capabilities of each platform and choose the one that fits your needs (and budget) the best.
For those feeling adventurous, Twitter has recently announced that its platform is branching out into the podcast market. Some of the more well-established platforms are Buzzsprout, Podbean, Captivate, Transistor, Libsyn, and SoundCloud.
Conclusion
The value of podcasts as a marketing and lead generation tool for entrepreneurs is growing. It can be difficult for new brands to break through the noise of digital marketing. Podcasts are an excellent way for businesses to reach out to a broader audience with relative ease and a small investment.
Before you know it, loyal followers and brand advocates will become customers and will share your content with their networks. Just look at the statistics on the effectiveness of podcasting as a marketing tool.
Nationalpublicmedia.com reports that 75% of podcast listeners are moved to action by the inclusion of commercial messaging. That is a powerful conversion tool that entrepreneurs cannot overlook.
---
The Atlanta Small Business Network, from start-up to success, we are your go-to resource for small business news, expert advice, information, and event coverage.
While you're here, don't forget to subscribe to our email newsletter for all the latest business news know-how from Atlanta Small Business Network.