Fall is an exciting time in Atlanta. Temperatures are dropping, school is back in session, and you have the first (of many) realizations that the end of the year is fast approaching. This is the perfect time to begin strategizing your business approach for next year as well as evaluate how you can end 2018 on a strong note. Atlanta has many courses, workshops, and events to help you strengthen your business and interact with others who are doing the same. So, while the kids are now back in school, it would not hurt for you also to enter the "classroom."
Read on for five small business events you should check out in September.
ProductCamp Atlanta 2018
September 8, 2018, 9:00 AM to 5:30 PM
Location: General Assembly
ProductCamp is a collaborative and user-organized event aimed at individuals who want to learn from peers and leaders in the product management, user experience, and marketing spheres. All attendees are encouraged to share what they know, lead discussions, and even volunteer to help with logistics. Everyone is identified as having something to add to the conversation, so attendees should feel empowered to learn and share.
Small Business Showcase Event: Free Networking
September 12, 2018, 6:00 PM to 8:00 PM
Location: Atlanta Tech Village
As a small business owner, networking is essential. However, many events can require you to put down a lot of money to participate. Fortunately, the Small Business Showcase Event is free for all small business owners and career-minded individuals to attend. This event creates a forum for owners to share their businesses with other entrepreneurs, and potentially connect with new clients.
Overview of SBA Programs and Services
September 20, 2018, 10:00 AM to 12:00 PM
Location: Small Business Administration on Peachtree Street NE
Fortunately, there are a lot of free programs provided by the Small Business Administration that entrepreneurs can take advantage of. To help business owners walk through the offerings, representatives at the downtown location of the SBA will provide information on SBA resources related to those doing business in historically underutilized zones, women who own small businesses, disabled veterans, and those eligible for microloan programs. If you are in any of these groups and wondering about the resources you can access at SBA, give this event a look.
Getting Your Startup Off on the Right Legal Foot
September 20, 2018, 2:00 PM
Location: Atlanta Tech Village
As a small business owner, you have a lot to manage. From marketing to finances, your hands are tied. So, the last thing you need is the threat of a lawsuit or violating a regulation in your industry. This course is taught by Michael Horten, a lawyer with over 40 years of experience (25 at King & Spalding). He will address topics such as choosing the right legal entity, navigating taxes, intellectual property, labor and employment laws, and strategies for structuring the roles of co-founders. If you are still in the beginning stages of establishing your company, it is vital to assess your legal status. This course gives you the primary tools to start that process.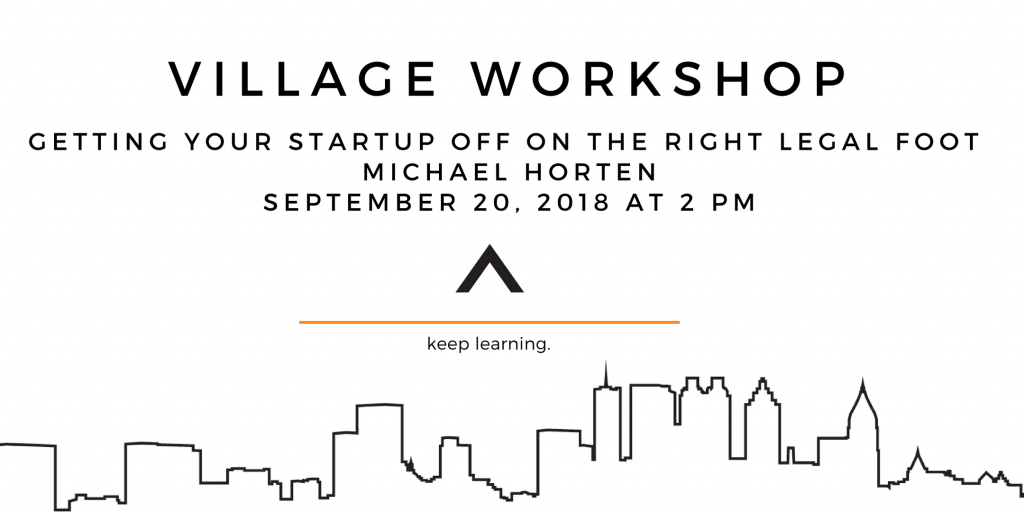 How to Properly Structure Your Seed Financing
September 25, 2018, 2:00 PM
Location: Atlanta Tech Village
Michael Horten, who also took on the role of being an angel investor during his career, is back again for this step-by-step guide on finding the funding you need for your startup. The course is set to teach owners the basics of some of the more popular investment vehicles, and how to properly organize your seed funding from them. Horten will also cover ways to negotiate the details of the terms of funding as well as how to set the pre-money valuation.
Final Thoughts
There is much information out there for small business owners, but there is nothing like meeting with like-minded peers and professionals who are where you are or have traveled where you want to go. Attending events like those above enable you to network with potential partners and customers. This is not an exhaustive list of events happening in September, so be sure to check out event pages from Atlanta Tech Village, StartUp Atlanta, and even Eventbrite for more small business-related courses, workshops, and mini-conferences.